Brazilian Coconut Shrimp Kebabs
Steven Raichlen
Print
Brazilian Coconut Shrimp Kebabs
Recipe Notes
Method: Direct Grilling
Equipment: 8 two-pronged skewers or 16 slender bamboo skewers
Ingredients
32 jumbo or extra large shrimp (about 1-1/2 to 2 pounds)
2 onions
1 large green bell pepper, plus 1/2 green bell pepper, diced
1 large orange, yellow, or red bell pepper, plus 1/2 red pepper diced
6 cloves garlic, halved
1 piece (1-inch) fresh ginger, peeled and thinly sliced into coins
1 to 2 jalapeno peppers, seeded and diced (for hotter kebabs, leave the seeds in)
1 can (14 ounces) unsweetened coconut milk
3 tablespoons fresh lime juice
2 tablespoons extra virgin olive oil
1 teaspoon coarse salt, or more to taste
1 teaspoon white pepper, or more to taste
1/3 cup fresh cilantro or parsley
3 tablespoons melted butter or olive oil for basting (optional)
Lime wedges, for serving
Recipe Steps
Step 1: Rinse the shrimp under cold running water, then drain and blot dry with paper towels. Peel and divide the shrimp. Cut 1 onion into 8 pieces; break each piece into individual layers. Cut the flesh of the whole bell peppers off the cores, and then cut it into 1-inch triangles. Thread the shrimp onto the skewers, alternating with the onion and bell pepper triangles. Arrange the kebabs in a nonreactive baking dish.
Step 2: Prepare the marinade. Cut the remaining onion in quarters. Finely chop the garlic, ginger, onion quarters, diced bell peppers, and jalapeno(s) in a food processor. Add the coconut milk, lime juice, oil, salt, and white pepper. Taste for seasoning, adding salt and pepper as necessary. Add the cilantro and pulse a few times just to mix. Don't process the marinade too much after the cilantro is added or it will turn green. Alternatively, puree the ingredients in a blender, again adding the cilantro at the end and blending just to mix. Pour the marinade over the kebabs and let marinate for 1 to 2 hours in the refrigerator, covered. (Don't over-marinate, or the shrimp will toughen.) Turn the kebabs several times to ensure even marinating.
Step 3: Set up the grill for direct grilling and preheat to high. When ready to cook, brush and oil the grill grate.
Step 4: Place the shrimp kebabs on the hot grate and grill until the shrimp is cooked (it will be firm and white), 2 to 3 minutes per side. Baste the shrimp with the butter, if using, during the last 2 minutes of grilling.
Step 5: Serve the shrimp at once with lime wedges. Unskewer the kebabs before eating.
Find This Recipe
And More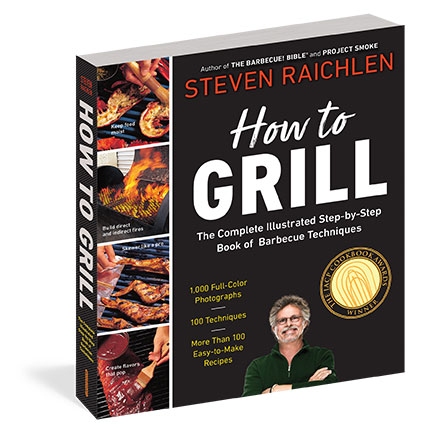 Without a doubt the most interesting, comprehensive, and well-thought-out book on grilling ever and it's destined to be in the kitchens and backyards of both professionals and home cooks. Every detail is made clear and easy in a concise and inspirational way. Spark it up! (Mario Batali, Molto Mario (The Food Network), Mario Batali's Simple […]
Buy Now ‣