Bubba-Lina Vinegar Sauce
Steven Raichlen
It takes a lot of gumption to serve a North Carolina-style vinegar sauce in Kansas City, home of America's favorite sweet sauce. But Jeff Stehney, head of the Slaughterhouse Five barbecue team and owner of the popular Oklahoma Joe's restaurant, has always marched to the beat of his own drummer. Jeff wanted to serve a pulled pork sandwich in this city of ribs and briskets and he wanted to serve it with vinegar sauce, anathema in a place where the thick, sweet, red barbecue sauce that defines the Kansas-city style was invented. To make it more palatable — visually palatable at least — he added tomato paste, so that the sauce would at least look red. The result: a deliciously mouth-puckeringly tart vinegar sauce that goes great with pork and provides relief from the sugar fatgue you can experience when you eat too much Kansas City-style sauce. Here's how I imagine they make it.
Print
Bubba-Lina Vinegar Sauce
Recipe Notes
Ingredients
2 cups cider vinegar
1/2 tomato paste
1/4 cup dark corn syrup, or more to taste
1/4 cup cold water
2 teaspoons coarse salt (kosher or sea), or more to taste
1 teaspoon freshly ground black pepper
1 to 2 cloves garlic, minced
1/2 teaspoon cayenne pepper, or hot pepper flakes, or more to taste
Recipe Steps
Step 1: Combine all ingredients in a nonreactive saucepan and bring to a boil over medium heat. Simmer for 3 minutes. Let cool and correct the seasoning, adding salt, cayenne, or corn syrup; the sauce should be very piquant. (The corn syrup should take the edge off the vinegar, not really make the sauce sweet.)
Step 2: Use right away or transfer to jars, cover, cool to room temperature, and refrigerate. The sauce will keep for several months. Shake well before using.
Recipe Tips
This sauce was designed to be poured over or mixed into North Carolina-style chopped or pulled (shredded) pork. You can also serve it with barbecued chicken, lamb, or beef.
This sauce works better mixed in with the chopped meat than spooned over it.
Find This Recipe
And More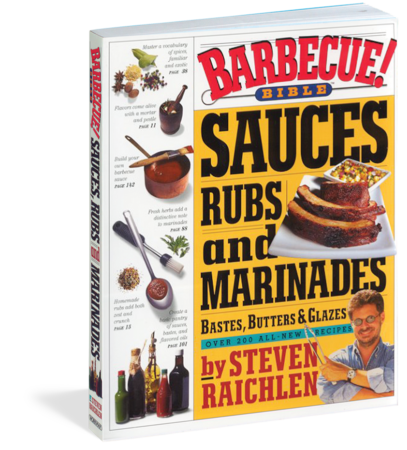 Marinate skewers of beef tips in Tex-Mex Tequila-Jalapeno Wet Rub before putting them on the grill. Or slather pork chops …
Buy Now ‣