Sesame-Grilled Beef Short Ribs (Kalbi)
Steven Raichlen
Print
Sesame-Grilled Beef Short Ribs (Kalbi)
Recipe Notes
Advance Prep: 1 to 4 hours for marinating the meat
Yield: Serves 4 to 6
Equipment: Kitchen shears
Ingredients
1 small or 1/2 large Asian pear, peeled and seeded, or 1/2 cup pear nectar
3 cloves garlic, coarsely chopped, plus 8 cloves garlic, peeled and skewered on toothpicks
1 tablespoon finely chopped peeled fresh ginger
1 tablespoon toasted sesame seeds, plus 1 tablespoon for garnish
2 tablespoons sugar
2 teaspoons coarse salt (kosher or sea)
1/2 teaspoon freshly ground black pepper
1 teaspoon Asian (dark) sesame oil
2 pounds beef short ribs cut crosswise into 1/4 inch slices
1 bunch scallions, both white and green parts, trimmed
Recipe Steps
Step 1: Puree the Asian pear, chopped garlic, ginger, 1 tablespoon of sesame seeds, sugar, salt, and pepper in a food processor. Work in the sesame oil.
Step 2: Arrange the ribs in a single layer in a nonreactive baking dish. Pour the pear marinade over the ribs, turning them to coat both sides. Let the ribs marinate in the refrigerator, covered, for 1 to 4 hours; the longer they marinate, the richer the flavor will be.
Step 3: Set up the grill, preferably a hibachi, for direct grilling and preheat it to high.
Step 4: When ready to cook, brush and oil the grill grate. Drain the ribs, discarding the marinade. Arrange the skewered garlic, the scallions, and the beef ribs with the meat spread out on the hot grate and grill until the garlic is browned and tender, 3 to 4 minutes per side; the scallions are browned, 2 to 4 minutes per side; and the beef is sizzling and browned, 2 to 4 minutes per side. (Koreans prefer their meat medium to medium-well done.) Use the poke test to test for doneness.
Step 5: Transfer the grilled beef to a warm platter and, using kitchen scissors, cut it into bite-size pieces. Cut the garlic cloves in half and cut the scallions into 1-inch pieces. To eat the kalbi, dip a piece of beef in the sesame salt. Spread a little chile paste on a lettuce leaf. Place pieces of beef, garlic, and scallion on the lettuce leaf. Roll it up and pop it into your mouth.
Find This Recipe
And More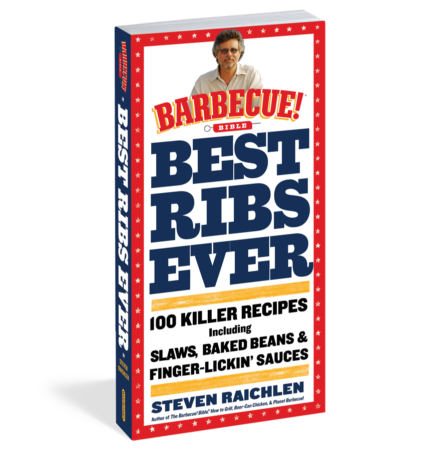 Say it loud, say it proud: the Best Ribs Ever. The perfect single-subject cookbook for every meat-loving griller, this book, …
Buy Now ‣