Chivito (Uruguay's Amazing Steak and Egg Sandwich)
Steven Raichlen
The chivito was the first thing I ate on my first trip to Uruguay and it foreshadowed the onslaught of red meat that would accompany my visit. ("We eat meat thirteen times a week," my guide confided, the fourteenth meal being fish for lunch on Friday.) Simply defined, the chivito is a steak sandwich—the way the Super Bowl, simply defined, is a football game. You start with thin-sliced steak and pile on bacon, eggs, cheese, lettuce, tomato, and mayonnaise. It makes a Philly cheesesteak look downright anorexic.
Print
Chivito (Uruguay's Amazing Steak and Egg Sandwich)
Recipe Notes
Yield: Makes 2 sandwiches
Equipment: A large (10- to 12-inch) skillet and a plate lined with paper towels
Ingredients
2 kaiser rolls
3 tablespoons mayonnaise, preferably Hellmann's
2 Boston lettuce leaves, rinsed and patted dry with paper towels
4 slices bacon, cut in half crosswise
2 beef steaks, each 3 to 4 ounces and cut or pounded 1⁄4 inch thick
Coarse salt (kosher or sea) and freshly ground black pepper
2 slices Jack or mild cheddar cheese, each about 1 ounce
2 large eggs
1 luscious red ripe tomato, thinly sliced
Recipe Steps
Step 1: Set up the grill for two-zone grilling (medium and medium-high) and preheat. Brush and oil the grill grate. Lightly toast the cut sides of the Kaiser rolls over medium heat.
Spread the cut sides of the rolls with mayonnaise. Line the bottom half of each with lettuce leaves.
Step 2: Put the bacon strips in a cast iron skillet and cook over medium heat until the fat has rendered and the bacon is crisp and golden brown. Transfer the bacon to a folded paper towel to drain, but leave the skillet on the heat. Place 2 strips of bacon on each sandwich on top of the lettuce.
Step 3: Season the steaks with salt and pepper. Grill over medium-high heat until cooked to taste: 2 minutes per side for medium. Place the steaks on the sandwiches and top with cheese.
Step 4: Crack the eggs into the skillet and fry in the bacon fat until crisp and browned, 2 minutes on the first side, 1 minute on the second side. Slide the eggs onto the cheese.
Step 5: Top the eggs with the tomato slices and a little more salt and pepper. Close the sandwiches and cut in half for serving.
Recipe Tips
Find This Recipe
And More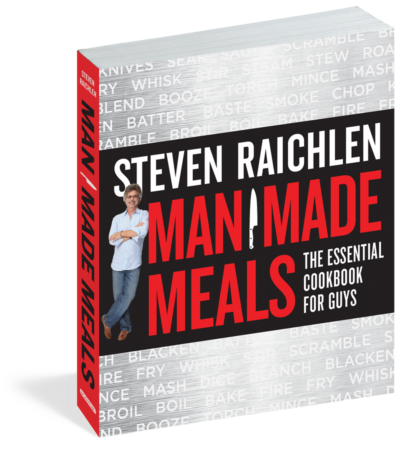 Man Made Meals is about the tools and techniques (guess what, grillers, you still get to play with knives and fire.) …
Buy Now ‣