Coca-Cola Barbecue Sauce
Steven Raichlen
Dare to be different. That's Jim Budros's motto. What's different about his barbecue sauce is its main flavoring, an ingredient most people are more likely to drink than cook with: Coke! This isn't quite as strange as it sounds, because Coke is sweet, tart, and spicy–the flavor profile of most great barbecue sauces. Incidentally, pot roast braised in Coca-Cola is a favorite in Venezuela.
Print
Coca-Cola Barbecue Sauce
Recipe Notes
Ingredients
1 cup Coca Cola
3 tablespoons A-1 Steak Sauce
1 cup ketchup
1/2 teaspoon onion flakes
1/4 cup Worcestershire sauce
1/2 teaspoon garlic flakes
1 teaspoon liquid smoke
1/2 teaspoon freshly ground black pepper
Recipe Steps
Step 1: Combine all the ingredients in a heavy, non-reactive saucepan and gradually bring to a boil over medium heat. Reduce the heat slightly to obtain a gentle simmer. Simmer the sauce until reduced by a quarter, 6 to 8 minutes.
Step 2: Use right away or transfer to a large jar, cover, cool to room temperature, and refrigerate. The sauce will keep for several months.
Recipe Tips
Use pretty much as you would any sauce, keeping in mind it has a strong affinity for chicken, ribs, and pork.
Find This Recipe
And More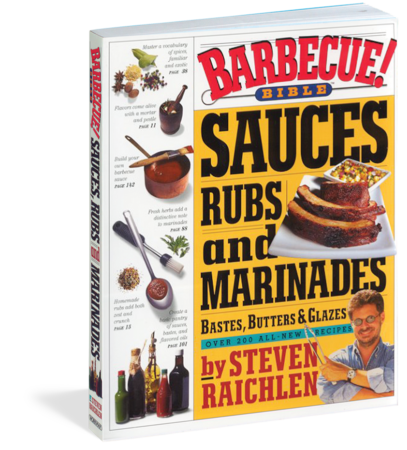 Marinate skewers of beef tips in Tex-Mex Tequila-Jalapeno Wet Rub before putting them on the grill. Or slather pork chops …
Buy Now ‣