Cold Smoked Scallops with Smoked Tomatoes and Jicama Salsa
Steven Raichlen
Print
Cold Smoked Scallops with Smoked Tomatoes and Jicama Salsa
Recipe Notes
Yield: Serves 4 to 6 as a starter
Method: Cold smoking
Equipment: Bradley smoker; alder chips
Ingredients
2 pounds sea scallops or bay scallops
Maldon sea salt and freshly ground black pepper
2 pounds heirloom tomatoes, cut into 1/2-inch thick slices
Extra virgin olive oil (optional)
Recipe Steps
Step 1: Set up your smoker for cold smoking (aim for a temperature of 100 degrees), following the manufacturer's instructions. Add the wood as specified by the manufacturer.
Step 2: There's a whitish half moon shaped muscle on the side of each scallop. Pull it off and discard. (It's tougher than the rest of the scallop.) Arrange the scallops on a wire rack and lightly sprinkle with salt and pepper. Place in the smoker. Arrange the tomato slices in the smoker next to the scallops.
Step 3: Smoke the scallops until lightly bronzed with smoke. Smoke the tomatoes until you can taste a smoke flavor on the surface, 1-1/2 to 2 hours. Transfer to a baking sheet.
Step 5: Arrange the tomatoes on plates or a platter. Drizzle with extra virgin olive oil, if desired, and sprinkle with salt and pepper. Arrange the scallops on top of the tomatoes. Drizzle with olive oil. Place a spoonful of jicama salsa on top. Dig in.
Find This Recipe
And More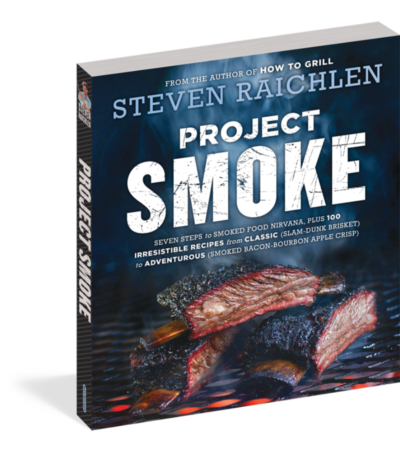 New York Times Bestseller Project Smoke is the How to Grill of smoking, both a complete step-by-step guide to mastering …
Buy Now ‣