Farm Stand Salad
Steven Raichlen
Maybe you like to shop at farm stands and farmers' markets. (You should.) Maybe your significant other likes to shop at farm stands and you go along for the ride. (Smart man.) However you get there, there's no question that you eat better, feel better, and do good for your community when you buy produce raised on local farms. Case in point, this colorful summer salad, made with sugar-sweet corn, crisp-tender green beans, and local tomatoes.
Print
Farm Stand Salad
Recipe Notes
Yield: Serves 2 to 4; can be multiplied as desired
Ingredients
2 ears sweet corn, grilled
1 pint local cherry tomatoes, cut in half, or 1 large ripe heirloom tomato, cut into 1-inch pieces
6 ounces haricots verts or slender green beans, rinsed, stem ends snapped off
1 bunch arugula, rinsed and patted dry with paper towels
2 tablespoons coarsely chopped fresh dill, basil, tarragon, chervil, or other summer herb or a combination of herbs
2 tablespoons hazelnut or walnut oil or extra virgin olive oil, or to taste
1 tablespoon rice vinegar or wine vinegar, or to taste
1 tablespoon pure maple syrup
Coarse salt (kosher or sea) and freshly ground black pepper
Recipe Steps
Step 1: Cut the corn kernels off the cobs. To do this, place an ear of corn flat on a cutting board and remove the kernels by making broad lengthwise strokes with a chef's knife, rotating the ear as you go. Repeat with the second ear. Place the corn kernels in a large salad bowl. Add the tomato(es), green beans, arugula, and herb(s). Pour the oil, vinegar, and maple syrup over the salad, but don't toss it. The salad can be assembled a couple of hours before serving (keep the salad refrigerated if it will be more than 1 hour).
Step 2: Just before serving, toss the salad and season it with more oil and/or vinegar, if needed, and salt and pepper to taste.
Find This Recipe
And More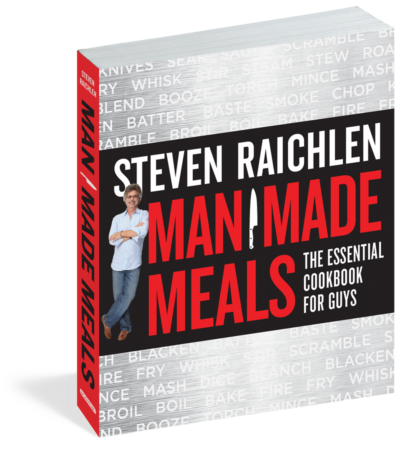 Man Made Meals is about the tools and techniques (guess what, grillers, you still get to play with knives and fire.) It's about adopting secrets from the pros—how to multitask, prep before you start cooking, clean as you go. It's about understanding flavor and flavor boosters, like anchovies and miso, and it's about essentials: how to […]
Buy Now ‣