Fire-Eater Chicken Wings
Steven Raichlen
Wherever there's smoke, there's fire, so you have to try these chicken wings, electrified with a triple-blast of heat in the form of cayenne pepper, fresh red jalapeños, and a generous dose of hot sauce.
Print
Fire-Eater Chicken Wings
Recipe Notes
Yield: Serves 6 as an appetizer, 4 as a light main course
Equipment: 1 1/2 cups hardwood chips, soaked in water to cover for 30 minutes.
Ingredients
3 to 3 1/2 pounds chicken wings
For the rub
1 tablespoon hot or sweet paprika
1 teaspoon sea salt
1 teaspoon freshly ground black pepper
1 teaspoon cayenne pepper (or to taste)
1 teaspoon onion powder
1 teaspoon garlic powder
1 teaspoon celery seed
2 tablespoons sesame oil or vegetable oil
For the Fire Eater Hot Sauce
8 tablespoons (1 stick) unsalted butter
6 red jalapeño peppers (or other hot peppers—preferably red—or to taste), stemmed and thinly sliced crosswise
1/2 cup cilantro leaves, plus a few sprigs for serving
1/2 cup Sriracha (Thai hot sauce)
Recipe Steps
Step 1: Set up your grill for indirect grilling and preheat to medium-high (400 degrees F).
Step 2: Cut the chicken wings into 2 sections, the drumette and the flat, discarding the wing tip (or save it for stock). Place the wings in a large mixing bowl. Sprinkle the paprika, pepper, cayenne, salt, onion and garlic powder, and celery seed over the chicken and toss to mix. Add the sesame oil and toss to mix.
Step 3: Arrange the chicken wings on the grate over the drip pan away from the heat. Leave a little space between each wing. Toss the wood chips on the coals (or place in the smoker box of your gas grill.) Indirect grill the wings until darkly browned and cooked through, 30 to 40 minutes depending on the size of the wings. To check for doneness, make a slit in the thickest part of the largest drumette: There should be no traces of pink in the meat, though you might get a pink smoke ring near the bone. You can use a digital thermometer to check that the internal temperature reaches a safe 165°F.
Step 4: Meanwhile, melt the butter in skillet. (Bubbles will dance when you dip a chile slice in the butter.) Add the chile slices and cilantro to the butter and cook over medium-high heat until fragrant, 2 minutes. Stir in the Sriracha and bring to a boil.
Step 5: Transfer the chicken wings to a large shallow bowl. Pour most of the butter mixture over them and toss to mix. Pour the remaining butter mixture on top, top with cilantro sprigs, and serve at once.
Find This Recipe
And More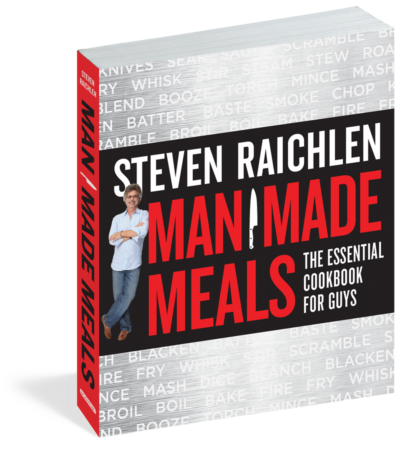 Man Made Meals is about the tools and techniques (guess what, grillers, you still get to play with knives and fire.) …
Buy Now ‣