Fire-Roasted Apples
Steven Raichlen
Once you master the concept of indirect grilling, you can grill pretty much anything you once baked in the oven. Even baked apples.
Print
Fire-Roasted Apples
Recipe Notes
Equipment: 1 cup wood chips (preferably apple or maple), soaked 1 hour in apple cider or cold water to cover, then drained
Ingredients
8 firm, sweet apples, such as Cortlands or Galas
6 tablespoons (3/4 stick) unsalted butter, at room temperature
1/4 cup firmly packed dark brown sugar
1/4 cup dried currants
1/4 cup graham cracker crumbs, toasted bread crumbs, or ground almonds
1/2 teaspoon ground cinnamon
1/4 teaspoon freshly grated nutmeg
1 teaspoon vanilla extract
4 marshmallows, cut in half (optional)
Recipe Steps
Step 1: Lightly grease an aluminum-foil roasting pan. Core the apples, using an apple corer or melon baller, but don't cut all the way through the bottom; the idea is to create a cavity for stuffing.
Step 2: Cream the butter and brown sugar in a medium-size bowl until light and fluffy. Beat in the currants, graham cracker crumbs, cinnamon, nutmeg, and vanilla. Spoon the brown sugar mixture into the apples, dividing it evenly among them. Place a marshmallow half (if using) on top of each apple. Place the apples in the prepared roasting pan.
Step 3: Set up the grill for indirect grilling. No drip pan is neces- sary for this recipe.
If using a gas grill, place all of the wood chips in the smoker box and preheat the grill to high; when smoke appears, reduce the heat to medium.
If using a charcoal grill, preheat it to medium.
Step 4: When ready to cook, if using a charcoal grill, toss all of the wood chips on the coals. Place the pan of apples in the center of the hot grate, away from the heat, and cover the grill. Cook the apples until soft, 40 minutes to 1 hour. Check the apples after 40 minutes and, if the marshmallows start to brown too much, cover the apples with a piece of aluminum foil. Serve the apples at once.
Find This Recipe
And More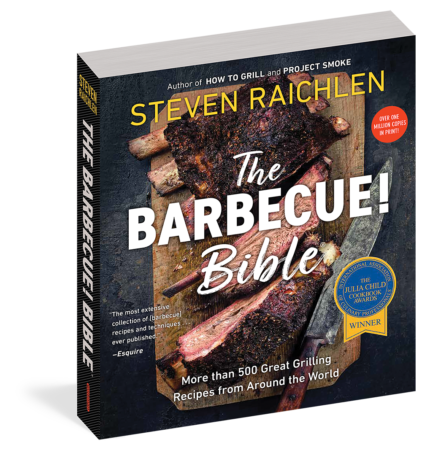 Steven Raichlen's Barbecue! Bible offers the biggest collection of barbecue recipes and grilling recipes ever developed.
Buy Now ‣