Florentine-Style Steak (Bistecca alla Fiorentina)
Steven Raichlen
Although I know that it doesn't sound like much when you describe it—an olive oil–basted, grilled porterhouse steak—bistecca alla fiorentina is one of the high holies of Tuscan cuisine. But here, as in so much of art, perfection lies in the details. The details in this instance include a lengthily aged steak from a rare breed of cattle cooked over an uncommonly high heat and basted with the best olive oil money can buy. Bistecca is commonly translated as T-bone steak, although it's actually closer to a porterhouse: Because bistecca is cut closer to the center of the steer, it has a larger piece of tenderloin attached than a T-bone.
Print
Florentine-Style Steak (Bistecca alla Fiorentina)
Recipe Notes
Yield: Serves 2 to 3; can be multiplied as desired
Equipment: Handheld hair dryer (optional; for use with a charcoal grill)
Ingredients
1 porterhouse or T-bone beefsteak (about 2 pounds), cut at least 1 1/2 inches thick
Coarse salt (kosher or sea) and freshly ground white pepper
1/2 cup of the best cold-pressed extra-virgin olive oil you can find (preferably Tuscan)
Recipe Steps
Step 1: Set up the grill for direct grilling and preheat to high. (Ideally, you'll be using wood or charcoal; the coals should just be beginning to ash over.) If using wood or charcoal, blow the ash off with a hair dryer.
Step 2: When ready to cook, brush and oil the grill grate. Place the steak on the hot grate and, if using charcoal, point the hair dryer at the coals to fan them to a glowing red. Grill the steak until cooked to taste (about 6 to 8 minutes per side for medium-rare) turning with tongs. Generously salt and pepper the steak when you turn it.
Step 3: When done, transfer the steak to a deep serving platter and generously salt and pepper it again. Drizzle the olive oil over the hot steak and let stand for 3 minutes before serving. Then cut servings of the beef off the bone for each eater. Mix the olive oil that collects in the bottom of the platter with the meat juices and spoon these over the steak as a sauce. Uncork an old bottle of Barolo and get ready to enjoy one of the world's best steaks.
Find This Recipe
And More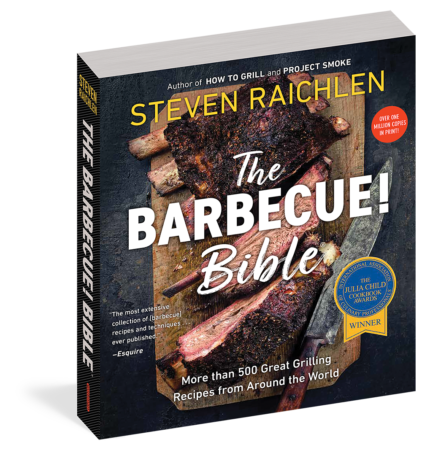 Steven Raichlen's Barbecue! Bible offers the biggest collection of barbecue recipes and grilling recipes ever developed.
Buy Now ‣