Fried Garlic Peanut Sauce
Steven Raichlen
Print
Fried Garlic Peanut Sauce
Recipe Notes
Yield: Makes about 2 1/2 cups
Ingredients
2 tablespoons vegetable oil
5 cloves garlic, 3 cloves thinly sliced crosswise and 2 cloves minced
1 shallot, minced
1 stalk lemongrass, trimmed and minced, or 2 strips (each 1/2 by 2 inches) lemon zest
1 to 3 small hot chiles, such as Thai chiles or serrano or jalapeño peppers, stemmed, seeded, and minced (for a hotter peanut sauce, leave the seeds in)
1 tablespoon dried shrimp, minced, or 1 teaspoon fish sauce (optional)
3/4 cup peanut butter
1 cup unsweetened coconut milk, or as needed
2 tablespoons sugar, or more to taste
2 tablespoons soy sauce
1 teaspoon fresh lime juice, or more to taste
1 tablespoon finely chopped cilantro
Coarse salt (kosher or sea) and freshly ground pepper
Recipe Steps
Step 1: Heat the oil in a wok or saucepan over medium-high heat. Add the sliced garlic and cook, stirring, until golden, 2 minutes. Remove the garlic with a slotted spoon to paper towels to drain. Add the 2 cloves of minced garlic, the shallot, lemongrass, chile(s), and dried shrimp, if using, to the wok and cook over medium-high heat until fragrant and lightly browned, 2 minutes.
Step 2: Stir in the peanut butter, coconut milk, sugar, soy sauce, fish sauce, if using (instead of the dried shrimp), lime juice, and 3/4 cup water. Reduce the heat and gently simmer the sauce until it is thick but pourable, 5 to 8 minutes. Stir in the cilantro during the last 2 minutes of cooking.
Step 3: Just before serving, stir in the fried garlic slices. If the sauce has gotten too thick and pasty, add a tablespoon or so of water. Taste and correct the seasoning, adding salt and pepper, and more sugar and lime juice if needed. The sauce should be richly flavored.
Recipe Tips
Find This Recipe
And More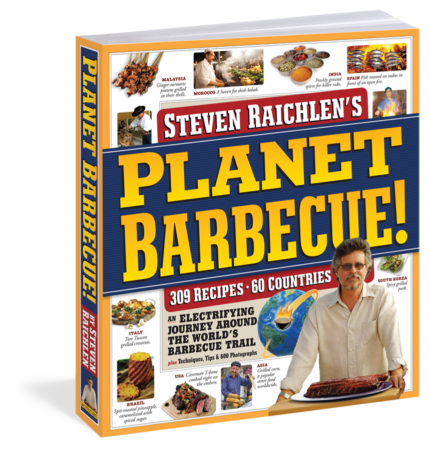 The most ambitious book yet by America's bestselling, award-winning grill expert whose Barbecue! Bible books have over 4 million copies …
Buy Now ‣