Greek Garlic and Lemon Roasted Potatoes
Steven Raichlen
These potatoes are a traditional accompaniment to Greek spit-roasted lamb. Lemon is one of the dominating flavors, and although North Americans don't usually associate it with potatoes, I must say it adds a whole new dimension. For extra richness, stir a few tablespoons of butter into the potatoes at the end.
Print
Greek Garlic and Lemon Roasted Potatoes
Recipe Notes
Equipment: 1 cup wood chips, soaked for 1 hour in cold water to cover and drained
Ingredients
3 pounds small red potatoes, scrubbed and cut in half
1/4 cup extra-virgin olive oil
4 cloves garlic, coarsely chopped
2 bay leaves
1 teaspoon dried oregano
Coarse salt (kosher or sea) and freshly ground black pepper
1 lemon, cut in half
2 tablespoons unsalted butter (optional)
2 tablespoons chopped fresh dill
Recipe Steps
Step 1: Place the potatoes in a roasting pan, toss them with the olive oil, garlic, bay leaves, and oregano, and season them with salt and pepper to taste. Squeeze lemon juice over the potatoes, then place the lemon rind halves on top, with the cut side up.
Step 2: Set up the grill for indirect cooking. No drip pan is necessary for this recipe. If using a gas grill, place the wood chips in the smoker box and preheat the grill to high; when smoke appears, reduce the heat to medium. If using a charcoal grill, preheat it to medium.
Step 3: When ready to cook, if using a charcoal grill, toss the wood chips on the coals. Set the roasting pan in the center of the grill and cover the grill. Cook the potatoes until browned and tender, 1 to 1-1⁄4 hours, stirring them from time to time to ensure even cooking. Stir in the butter (if using) and dill during the last 15 minutes of cooking.
Step 4: To serve, remove and discard the lemon rinds and bay leaves from the potatoes. Taste for seasoning, adding more salt and/or pepper as necessary, and serve.
Find This Recipe
And More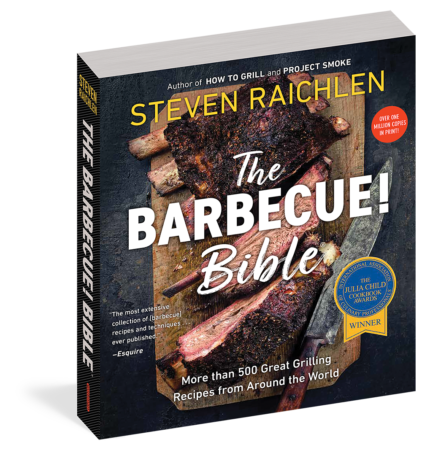 Steven Raichlen's Barbecue! Bible offers the biggest collection of barbecue recipes and grilling recipes ever developed.
Buy Now ‣