Green Onions Romesco (Calçots)
Steven Raichlen
Succulent, tender calçots (pronounced CAL-sots) are Catalan green onions. This recipe can be prepared with green onions or large scallions.
Print
Green Onions Romesco (Calçots)
Recipe Notes
Ingredients
2 bunches green onions, or 4 bunches large scallions, both white and green parts, trimmed
Coarse salt (kosher or sea)
Romesco Sauce (optional), for serving
Spanish extra-virgin olive oil (optional), for serving
Freshly ground black pepper (optional), for serving
Recipe Steps
Step 1: Set up the grill for direct grilling and preheat to high.
Step 2: When ready to cook, brush and oil the grill grate. Arrange the onions on the hot grate and grill, turning with tongs, until charred all over, 8 to 12 minutes (scallions will take less time than green onions). Season the onions with plenty of salt as they cook. When done, wrap the charred onions in a thick layer of paper towels (or use newspaper as they do in Spain) and let them rest for 15 minutes.
Step 3: Unwrap the onions and pick away the charred skin with your fingers. Serve the onions warm with Romesco Sauce for dipping or drizzle olive oil on top, season them with pepper, and pop them into your mouth.
Find This Recipe
And More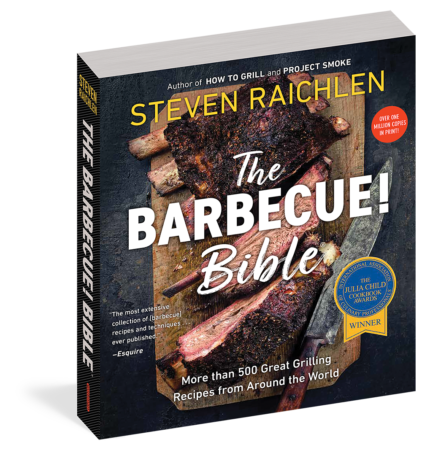 Steven Raichlen's Barbecue! Bible offers the biggest collection of barbecue recipes and grilling recipes ever developed.
Buy Now ‣