Grilled Baby Backs (Nuri's Version)
Steven Raichlen
Nuri's Version: To prepare baby back ribs the way Nuri does, by boiling them first, you'll need these ingredients in addition to the ones on the original recipe.
Print
Grilled Baby Backs (Nuri's Version)
Ingredients
1 onion, quartered
1 piece (2 inches) fresh ginger, peeled, cut crosswise into 1/4-inch slices, and fl attened with the side of a cleaver
2 cloves garlic, peeled and flattened with the side of a cleaver
2 stalks lemongrass, trimmed and fl attened with the side of a cleaver
Recipe Steps
1: Several hours, or even a day ahead, remove the papery membrane from the back of each rack of ribs. Then, place the ribs in a large pot with cold water to cover by 4 inches. Bring the ribs to a boil over medium heat, skimming off any foam that rises to the surface.
2: Add the onion, ginger, garlic, and lemongrass to the pot with the ribs. Let the ribs return to a gentle simmer and cook them until the meat is very tender and has shrunk back from the ends of the bones by about 1/4 inch, about 1 hour. Transfer the ribs to a platter and let cool to room temperature, then refrigerate them until you are ready to grill. For even moister ribs, let the ribs and cooking liquid cool to room temperature separately, then put the ribs back in the cooking liquid and refrigerate them together. The ribs can be boiled up to 24 hours ahead of time.
3: When you are ready to grill, drain the ribs if necessary, discarding the cooking liquid or setting it aside for another use in a soup or stew. Grill the ribs, bone side down, using the direct method until they are sizzling hot and darkly browned, 3 to 5 minutes per side. Baste the ribs generously and repeatedly with the sweet soy glaze, serving any extra glaze on the side as a sauce.
Find This Recipe
And More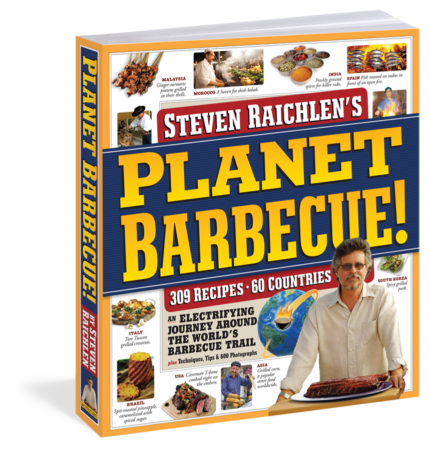 The most ambitious book yet by America's bestselling, award-winning grill expert whose Barbecue! Bible books have over 4 million copies …
Buy Now ‣