Grilled Clams with Korean Cocktail Sauce
Steven Raichlen
These clams come from the Korean port city of Sorae, where a fishmonger turned restaurateur named Lee Myong Chol serves shellfish at his eponymous seafood restaurant/fish market. Sorae is the sort of town any true foodie dreams of discovering, built around a teeming seafood market provisioned by fishing boats that arrive daily and that is chaotic enough to make you feel like you're in preindustrialized Asia, not the ultramodern Korea of the twenty-first century. The bivalves pack a double wallop of flavor, first in the form of a vegetable relish made with peppers, carrot, and scallions, then from a sort of cocktail sauce based on Korea's ubiquitous chile sauce. The master recipe calls for clams, but whole bay scallops in the shell and giant green-shelled mussels would be cooked the same way. All would be served with one utensil not typically found at the tables of most American grill joints—scissors. This enables you to snip even the largest, toughest bivalves into tiny pieces in the shell, rendering them as tender as the most delicate
littlenecks.
Print
Grilled Clams with Korean Cocktail Sauce
Recipe Notes
Advance Prep: None, but the sauce can be prepared up to 6 hours ahead.
Total Time: Makes 12; Serves 2 to 3 as an appetizer, 1 to 2 as a light main course
Ingredients
For the vegetable relish
2 tablespoons very finely diced sweet onion, such as Vidalia
2 tablespoons very fi nely diced peeled carrot
2 tablespoons very fi nely diced, seeded poblano or serrano pepper
1 scallion, green part only, thinly slivered
For the Korean Cocktail Sauce and Clams
1/3 cup Korean chile paste
2 tablespoons fresh lemon juice or rice vinegar, or more to taste
1 teaspoon sugar, or more to taste
1/2 teaspoon freshly ground black pepper
12 large clams in the shell or 18 cherrystones, well scrubbed with a stiff bristle brush
Lemon wedges, for serving
You'll also need:
1 An oyster knife for shucking the clams; a shellfish rack
Recipe Steps
1: Make the vegetable relish: Place the onion, carrot, poblano or serrano pepper, and scallion green in a small bowl and stir to mix.
2: Make the Korean cocktail sauce: Place the chile paste, lemon juice, sugar, and black pepper in a small nonreactive bowl and whisk to mix. Taste for seasoning, adding more lemon juice and/or sugar as necessary; the sauce should be a little sweet and sour and very flavorful.
3: Set up the grill for direct grilling and preheat it to high.
4: Shuck the clams, discarding the top shells. Take pains not to spill the juices. Arrange the clams in a shellfish rack, if using. Place a spoonful of vegetable relish in each clamshell and top it with a spoonful of cocktail sauce.
5: Arrange the clams on the hot grate on the shellfish rack, if using, and grill the clams until the juices and sauce bubble and the clams are just barely cooked, 3 to 6 minutes. Serve the clams on the half shell, with lemon wedges.
Find This Recipe
And More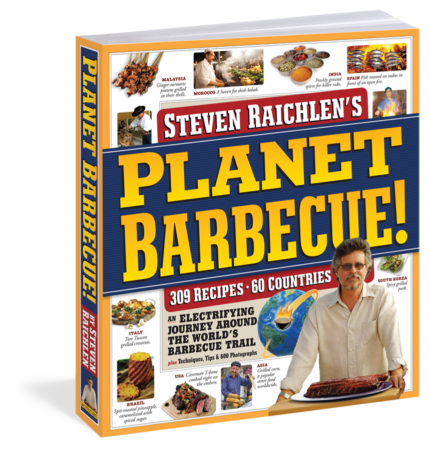 The most ambitious book yet by America's bestselling, award-winning grill expert whose Barbecue! Bible books have over 4 million copies …
Buy Now ‣