Grilled Eel with Sweet Cinnamon and Star Anise Glaze
Steven Raichlen
Eel holds an honored place in the hearts of Asian barbecue fanatics (think Japanese anago and unagi ). Koreans approach the grilling of eel with a zeal that borders on a fetish. This brings me to Ilmijung, a restaurant renowned for its barbecued eel and equally remarkable for its riverside setting and pastoral atmosphere (rare in hyper-urbanized Seoul). You can dine on a dock right on the river or in cozy rooms decorated like peasant cottages. But the star attraction here slithers more than it swims and it comes grilled in several manifestations. The classic features a sweet-salty spicy lacquer that contains twenty-one ingredients (they're on display in a showcase in the dining room, in case you're curious to know what you're eating). These flavorings range from the predictable (soy sauce and sesame) to the strange (licorice and angelica) to the downright exotic (eel bones and sansho peppers).
Of course, it's one thing to know what's in a sauce and quite another to know the exact proportions of each ingredient. What you'll find here will get you to the destination with ingredients readily available in the United States. As for Ilmijung's eel, specially raised for the restaurant in Pusan, it's simply the meatiest, sweetest, richest, fattiest I've ever tasted anywhere. The deep, rich flavor and lacquer like sheen come from multiple bastings and grillings—I counted eight separate applications. The eel is sandwiched between two wire racks to hold it intact when it's turned—the Korean version of a grill basket.
Print
Grilled Eel with Sweet Cinnamon and Star Anise Glaze
Recipe Notes
Advance Prep: 2 hours for the glaze to stand, plus 1 hour for marinating the eel; the glaze can be prepared up to a day ahead.
Yield: Serves 4
Ingredients
1/2 cup soy sauce
1/2 cup sake
1/4 cup Asian (dark) sesame oil
1/2 cup light corn syrup, such as Karo or Steen's
1/3 cup firmly packed light brown sugar
2 cloves garlic, peeled and lightly crushed with the side of a cleaver
2 slices (1/4 inch) fresh ginger, lightly crushed with the side of a cleaver
2 scallions, trimmed, white parts lightly crushed with the side of a cleaver, green parts finely chopped for garnish
1 slice (1/4 inch thick) sweet onion, or 1 more scallion
3 tablespoons toasted sesame seeds
2 star anise, or 1/2 teaspoon Chinese five-spice powder
1 piece (2 inches) cinnamon stick
1 dried Asian hot red pepper, or 1/4 teaspoon hot red pepper fl akes
1 teaspoon black peppercorns
1/2 teaspoon ground sansho pepper, or 1/2 teaspoon ground Szechuan peppercorns and a pinch of ground coriander (optional)
1-1/2 to 2 pounds eel
You'll also need:
A grill basket (optional)
Recipe Steps
1: Place the soy sauce, sake, sesame oil, corn syrup, brown sugar, garlic, ginger, scallion whites, onion slice, 2 tablespoons of toasted sesame seeds, star anise, cinnamon stick, dried hot pepper, peppercorns, and sansho pepper, if using, in a large heavy saucepan and bring to a boil over medium heat. Reduce the heat to low and let the glaze simmer gently until it is syrupy and richly flavored, 15 to 20 minutes, or as needed, stirring often. Remove the pan from the heat and let the glaze stand at room temperature for 2 hours, then strain it into another saucepan or a clean jar. The glaze can be prepared up to 24 hours ahead and refrigerated, covered.
2: Arrange the eel fillets in a baking dish. Place 1/3 cup of the glaze in a ramekin and very generously brush the eel on both sides with that glaze. Let the eel marinate in the refrigerator, covered, for 1 hour.
3: Set up the grill for direct grilling and preheat it to medium.
4: When ready to cook, oil the fish basket, if using, or brush and oil the grill grate. Place the eel in the fish basket, if using, and arrange it or the unbasketed eel on the hot grate. Grill the eel for 2 minutes per side. Pour a little more glaze into the ramekin and brush both sides of the eel, opening the grill basket so you can coat the eel evenly. (The reason for adding the glaze to the ramekin is so as not to contaminate the whole batch with fish juices on the brush.)
5: Grill the eel for 2 more minutes per side, then glaze it again. Continue grilling and glazing the eel until it is golden brown on the outside and cooked through, about 8 minutes per side, 16 minutes in all. When done, the eel will break into firm flakes when pressed with a finger.
6: Transfer the grilled eel to a platter or plates. Spoon any leftover glaze on top of the eel and sprinkle the remaining 1 tablespoon of toasted sesame seeds and the scallion greens over it. Serve the eel at once.
Recipe Tips
Sansho pepper is an aromatic spice with a minty, lemony flavor. You can buy ground sansho pepper at Japanese markets and some specialty food shops. There's no exact substitute, but ground Szechuan peppercorns mixed with a pinch of ground coriander will get you close.
Find This Recipe
And More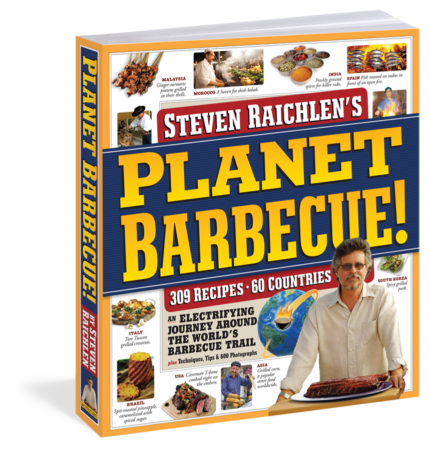 The most ambitious book yet by America's bestselling, award-winning grill expert whose Barbecue! Bible books have over 4 million copies …
Buy Now ‣