Grilled Lamb with Herbes de Provence
Steven Raichlen
This is about the easiest and best way I know to cook lamb chops. You find them everywhere in Provence, from backyard cookouts to country inns and roadside restaurants. The basic seasoning is Herbes de Provence, a fragrant mixture of rosemary, thyme, marjoram, basil, bay leaf, and—for a touch of sweetness—fennel and lavender. You can make your own or buy a jar of it at most markets.
Print
Grilled Lamb with Herbes de Provence
Recipe Notes
Yield: 4 servings
Method: Direct Grilling
Ingredients
1 rib lamb chops (each 3 to 4 ounces and 1 inch thick)
1/4 cups extra-virgin olive oil
2 lemons
Salt and freshly ground black pepper
3 tablespoons Herbes de Provence
Recipe Steps
Step 1: Arrange the chops in a nonreactive baking dish just large enough to hold them in a single layer. Place the olive oil in a small bowl, then cut one lemon in half and squeeze the juice from both halves into the oil and whisk to blend. Set half aside for basting.
Step 2: Brush the lamb chops on both sides with the remaining olive oil mixture and season the chops with salt and pepper to taste. Sprinkle the chops with 2 tablespoons of the Herbes de Provence and let them marinate, at room temperature, for 10 minutes.
Step 3: Set up the grill for direct grilling and preheat to high.
Step 4: When ready to cook, brush and oil the grill gate. Arrange the lamb chops on the hot grate and grill, turning with tongs, until cooked to taste, about 4 minutes per side for medium-rare. As the lamb chops cook, baste them from time to time with the remaining olive oil mixture.
Step 5: Transfer the grilled chops to a platter and season them with the remaining Herbes de Provence. Serve at once, accompanied by the remaining lemon, cut into wedges.
Recipe Tips
Find This Recipe
And More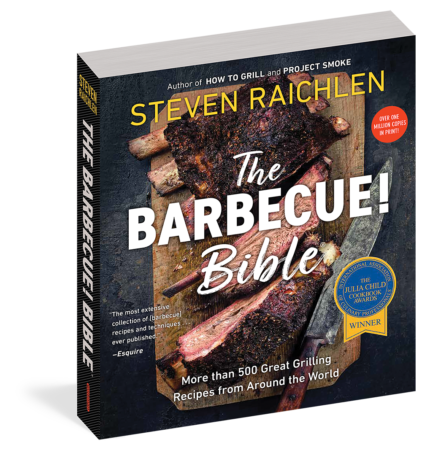 Steven Raichlen's Barbecue! Bible offers the biggest collection of barbecue recipes and grilling recipes ever developed.
Buy Now ‣