Grilled Ostrich Meatballs
Steven Raichlen
Print
Grilled Ostrich Meatballs
Recipe Notes
Advance Prep: Although you can form the meatballs as little as an hour in advance, for the best results, do this 3 to 4 hours ahead and refrigerate until grilling.
Yield: Serves 4
Ingredients
4 slices white bread (crusts discarded), cut into 1-inch squares
1 cup milk
1-1/2 pounds ground ostrich or lean ground beef
1 medium-size onion, finely chopped
3 tablespoons finely chopped fresh flat-leaf parsley
1/2 teaspoon dried thyme
1/2 teaspoon ground bay leaves
2 large eggs, lightly beaten with a fork
1-1/2 teaspoons coarse salt (kosher or sea)
1/2 teaspoon freshly ground black pepper
About 2 tablespoons vegetable oil, for basting
Tomato-Pepper Salsa (optional) for serving
Recipe Steps
1: Place the bread in a mixing bowl, pour the milk over it, and let soak for 10 minutes. Drain off the milk, squeezing the bread to extract the excess.
2: Add the ostrich, onion, parsley, thyme, bay leaves, eggs, salt, and pepper. Beat with a wooden spoon or knead with your fingers to mix.
3: Form the ostrich mixture into flattish meatballs (they should look like miniature burgers), each about 2 inches across and 1 inch thick. Arrange the meatballs on a plate lined with plastic wrap and refrigerate them, covered, for at least 1 hour or as long as 4 hours before grilling (chilling helps firm up the meatballs so they're less likely to stick or fall apart on the grill).
4: Set up the grill for direct grilling and preheat it to high.
5: When ready to cook, brush and oil the grill grate. Arrange the meatballs on the hot grate and grill them until nicely browned on both sides and cooked through, 2 to 3 minutes per side, basting them with oil. Serve the meatballs at once with the Tomato-Pepper Salsa, if desired.
Find This Recipe
And More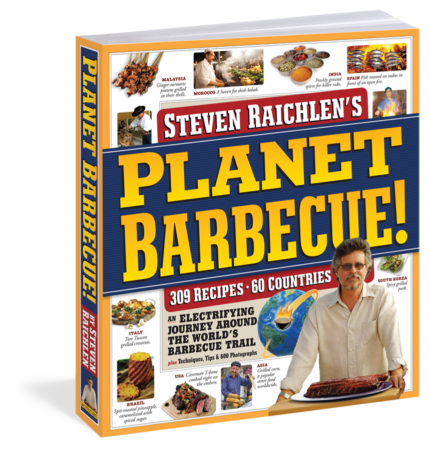 The most ambitious book yet by America's bestselling, award-winning grill expert whose Barbecue! Bible books have over 4 million copies …
Buy Now ‣