Grilled Pound Cake with Berry Salsa and Tequila-Whipped Cream
Steven Raichlen
Print
Grilled Pound Cake with Berry Salsa and Tequila-Whipped Cream
Recipe Notes
Yield: 8 servings
Method: Direct Grilling
Ingredients
For the berry salsa
4 cups mixed fresh berries, such as blueberries, raspberries, blackberries, and/or quartered strawberries
1/4 cup thinly slivered fresh mint
2 slices candied or peeled fresh ginger, finely minced
2 jalapeno peppers, seeded and minced
3 tablespoons freshly squeezed lime juice, or more to taste
2 tablespoons granulated sugar, or more to taste
For the tequila-whipped cream
1 cup heavy (whipping) cream
3 tablespoons confectioners' sugar (powdered sugar) or agave syrup
1 tablespoon tequila
1/2 teaspoon ground cinnamon
For the cake
8 slices (3/4-inch thick) pound cake, lightly brushed with melted butter on both sides
Recipe Steps
Step 1: Make the berry salsa: Place the berries, mint, ginger, jalapeno(s), lime juice, and granulated sugar in a mixing bowl but do not mix. The salsa can be prepared to this stage up to 2 hours ahead and refrigerated.
Step 2: Make the tequila-whipped cream: Beat the cream to soft peaks in a chilled bowl using an electric mixer, hand-held beater, or whisk. Whisk in the confectioners' sugar, tequila, and cinnamon and beat until stiff peaks form. The tequila-whipped cream can be prepared up to 2 hours ahead and refrigerated, covered.
Step 3: Set up the grill for direct grilling and preheat to medium high. When ready to cook, brush and oil the grill grate. Arrange the cake slices on the grill at a diagonal to the bars of the grate and grill until lightly browned on both sides, about 2 minutes per side. Give each slice a quarter turn after 1 minute to lay on a crosshatch of grill marks. Use a spatula to turn the cake slices. Transfer the grilled cake slices to a platter or plates.
Step 4: Toss the berry salsa to mix. Taste for sweetness, adding more granulated sugar and/or lime juice as necessary. Spoon the salsa over the grilled cake. Top each portion with a dollop of tequila-whipped cream and serve at once. Serve any extra whipped cream on the side.
Find This Recipe
And More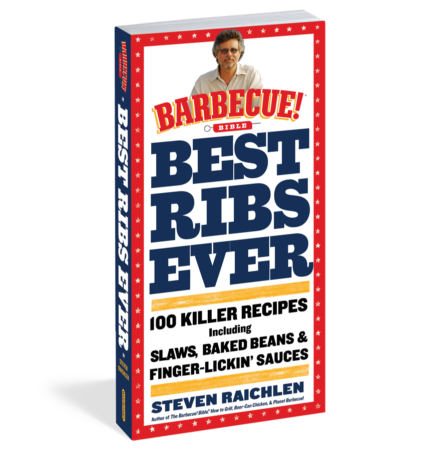 Say it loud, say it proud: the Best Ribs Ever. The perfect single-subject cookbook for every meat-loving griller, this book, …
Buy Now ‣