Halibut Grilled in Banana Leaves with Lemongrass and Thai Basil
Steven Raichlen
It's a problem that bedevils grillers all over Planet Barbecue: How do you keep delicate fish fillets from sticking to the grate? Thai grill masters use a technique that has the added advantage of sealing in such vibrant Asian flavors as lemongrass and Thai basil. And the result looks cool as all get-out. (Never underestimate the power of looking cool as all get-out.) The banana leaf wrapping technique turns up throughout Asia not to mention in Latin America and the Caribbean. The charred banana leaf imparts an herbaceous smoke flavor, but if it's unavailable, you can grill the fish in grape leaves or aluminum foil and still get convincing results.
Print
Halibut Grilled in Banana Leaves with Lemongrass and Thai Basil
Recipe Notes
Advance Prep: 30 minutes to 2 hours for marinating the fi sh, and the herb paste can be prepared up to 12 hours ahead.
Yield: Serves 4
Method: Direct Grilling
Ingredients
For the Herb Paste
2 stalks lemongrass, trimmed and cut crosswise into 1/4-inch slices
1/4 cup lightly packed Thai basil leaves or regular basil leaves
2 cloves garlic, peeled, each clove cut in half
1 tablespoon rinsed, chopped fresh cilantro (coriander) roots, or 2 tablespoons coarsely chopped fresh cilantro leaves
1 to 2 Thai chiles or serrano peppers, seeded (for hotter fi sh, leave in the seeds)
1 teaspoon coarse salt (kosher or sea)
2 tablespoons Asian (dark) sesame oil or vegetable oil
4 banana leaf squares (each 8 x 8-inches, see Note)
4 halibut fi llets (each about 3/4 inch thick and 6 to 8 ounces)
Honey Lime Dipping Sauce (recipe follows)
Honey Lime Dipping Sauce
1/4 cup honey
1/4 cup fresh lime juice
1/4 cup Thai or Vietnamese fi sh sauce or soy sauce
1/4 teaspoon minced garlic
1 Thai or other hot chile, thinly sliced crosswise
Recipe Steps
To Make the Honey Lime Dipping Sauce: Place the honey, lime juice, fish sauce, garlic, chile, and D cup of water inonreactive mixing bowl and whisk until well combined. Divide the sauce among 4 small serving bowls and serve alongside the fish.
1: Make the herb paste: Place the lemongrass, basil, garlic, cilantro, chile(s), and salt in a heavy mortar and pound to a paste with a pestle, then work in the sesame oil. If you don't have a mortar and pestle, finely chop the lemongrass, basil, garlic, cilantro, and chile(s) in a food processor, then add the salt and work in the sesame oil. You should wind up with a thick, fragrant flavorful paste. The herb paste can be prepared up to 12 hours ahead.
2: Place a banana leaf square on a work surface, dark side down. Place a spoonful of herb paste in the center and spread it into a rectangle the size of one piece of fish. Arrange a piece of fish on top and top it with another spoonful of herb paste, spreading it over the fish with the back of a spoon. Fold the ends, then the sides of the banana leaf over the fish the way you'd fold up a burrito, blintz, or egg roll. Secure the banana leaf with toothpicks or tie it in place with butcher's string. Repeat with the remaining banana leaf squares, herb paste, and fish. Let the fish marinate in the refrigerator for at least 30 minutes or as long as 2 hours.
3: Set up the grill for direct grilling and preheat it to high.
4: When ready to cook, brush and oil the grill grate. Arrange the fish packets, seam side down to start, on the hot grate and grill until the banana leaf is nicely browned and the fish is cooked through, 3 to 5 minutes per side. To test for doneness, insert a slender metal skewer through the side of one packet for 15 seconds; when the fish is done the skewer will feel very hot to the touch when removed.
5: Serve the fish in the banana leaf packets at once with the dipping sauce, instructing everyone to pull out the toothpicks or cut any butcher's string to open the packets. (Part of the pleasure of this dish is the blast of herb fragrance you get when you open the banana leaf.)
Note:: Banana leaves are sold both fresh and frozen at Asian, Indian, and Hispanic markets. If you use a fresh, rather than a thawed frozen banana leaf, be sure it comes from a tree that has not been treated with pesticides. To make a fresh banana leaf pliable, you'll need to soften it by grilling it or heating it over the burner of a stove for 15 to 30 seconds per side. If banana leaves are not available, you can use bottled grape leaves; soak them well in cold water to remove the salt. Or, wrap the halibut, or any fish you may be cooking, in heavy-duty aluminum foil.
Find This Recipe
And More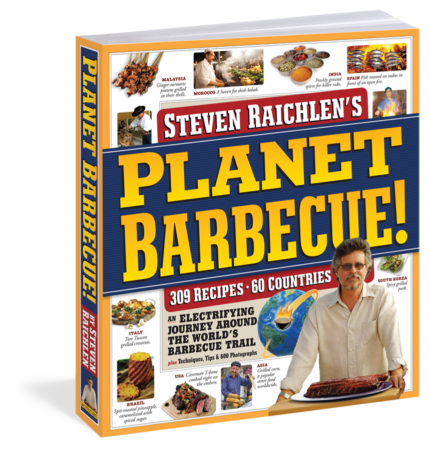 The most ambitious book yet by America's bestselling, award-winning grill expert whose Barbecue! Bible books have over 4 million copies …
Buy Now ‣