Hanger Steak with Mustard and Caramelized Onions
Steven Raichlen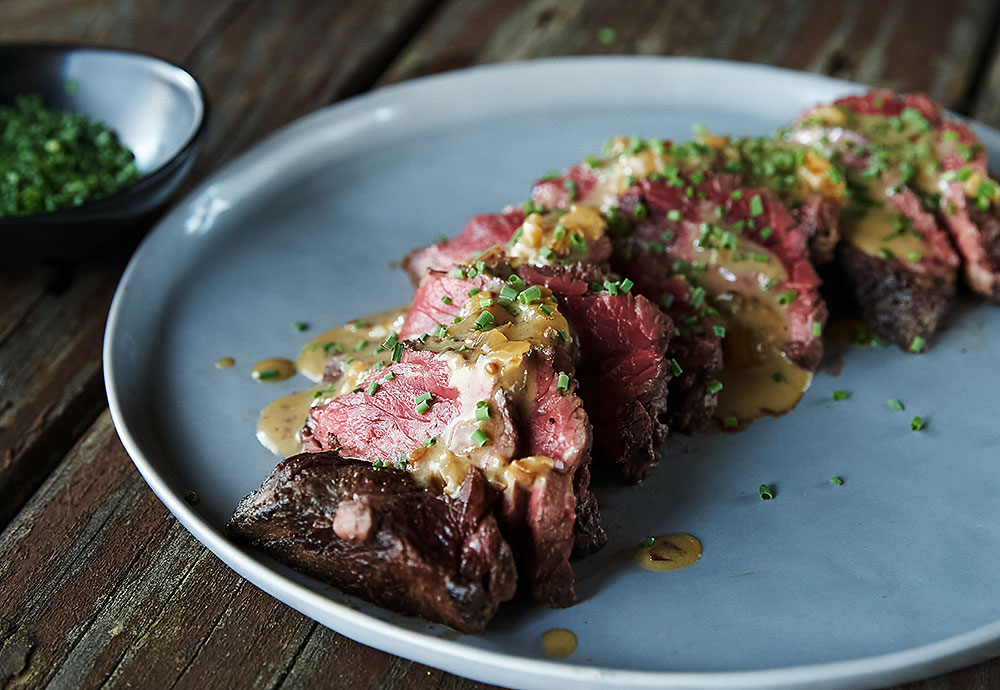 Other Recipes from Episode 302: Planet Steak
Print
Hanger Steak with Mustard and Caramelized Onions
Recipe Notes
Yield: Serves 2 and can be multiplied as desired
Method: Direct Grilling
Ingredients
For the sauce:
2 tablespoons butter
1 medium onion, finely chopped
3 tablespoons grainy Meaux-style mustard or Dijon mustardy cream
Coarse sea salt and freshly ground black pepper
1 cup heavy cream
For the steak:
1-1/2 pounds hanger steak
1/4 cup Dijon mustard
2 tablespoons minced fresh chives (optional)
Recipe Steps
1: Make the sauce: Melt the butter in a small saucepan on your grill's side burner or on the stove. Add the onions and caramelize over medium heat (cook until soft and browned), 5 to 8 minutes, stirring often. Reduce the heat as needed so the onions soften and brown without burning.
2: Whisk in the cream and boil until reduced by half. Whisk in the mustard and add salt and pepper to taste: the sauce should be highly seasoned. Keep the sauce warm. It can be made up to several hours ahead.
3: Brush the hanger steaks on all sides with mustard, then season generously with salt and pepper.
4: Set up your grill for direct grilling and preheat to high (450 degrees). Brush or scrape and oil the grill grate.
5: Arrange the hanger steaks on the diagonal on the grill grate. Grill until sizzling and browned on the outside and cook to taste, about 2 minutes for rare (120 degrees); 3 minutes per side for medium-rare (130 degrees). Give each steak a quarter turn after 1 minute to lay on a crosshatch of grill marks, if desired. Use an instant-read thermometer inserted through the side of the steak to check for doneness. Alternatively, use the poke test.
6: Transfer the steaks to a cutting board and let rest for 2 minutes. Meanwhile, reheat the mustard sauce. Cut the hanger steak on the diagonal into 1/2 inch slices and transfer o a platter or plates. Pour the mustard sauce on top; sprinkle with chives; and dig in.
Recipe Tips
Our thanks to the sponsors of Project Fire Season 3:

Steven Raichlen's Project Fire is a production of Maryland Public Television, Barbacoa, Inc., and Resolution Pictures. © 2021 Barbacoa, Inc. Photos by Chris Bierlein