Hay-Smoked Steak with Chipotle Salsa
Steven Raichlen
Print
Hay-Smoked Steak with Chipotle Salsa
Recipe Notes
Yield: Serves 4 to 6
Method: Hay smoking (hot smoking with hay)
Equipment: Weber kettle grill; hay; disposable aluminum pan, wire rack, ice
Ingredients
4 New York strip steaks (each 1-1/2 inches thick)
Coarse sea salt and cracked black peppercorns
Extra virgin olive oil
1 armful of hay (enough to fill a 1 gallon bucket; see Note below)
Recipe Steps
Step 2: Just before grilling, generously season the steaks on both sides with salt and pepper. Lightly drizzle with olive oil and pat the seasonings and oil in the meat with a fork. Fill a disposable pan with an inch or so of ice, then place a wire rack over it. Arrange the steaks on the wire rack. (Make sure the bottom of the steaks are not touching the ice. Leave room for the smoke to flow underneath them.)
Step 3: Set up your charcoal grill or smoker according to the manufacturer's directions.
Step 4: Place a small mound of charcoal in the firebox (or to one side of a kettle grill) and light it. When the coals glow red, place the cold steaks in the smoke chamber (as far away as possible from the fire). Toss the hay on the coals and cover the smoker. Smoke the steaks until bronzed with smoke, but not long enough to cook them: this will take about 3 minutes. Remove the steaks from the grill or smoker.
Step 5: Rake the coals into a mound to generate a high heat for direct grilling. Brush and oil the grill grate. Sear the steaks to the desired doneness, about 3 minutes per side for medium-rare—longer if you like your steaks more well done.
Step 6: Transfer the steaks to a platter and let rest for 2 minutes, then serve with the Chipotle Salsa.
Recipe Tips
Note: Small amounts of hay can be purchased at pet supply stores.
Find This Recipe
And More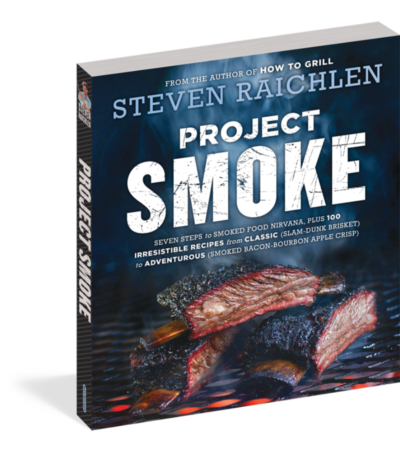 New York Times Bestseller Project Smoke is the How to Grill of smoking, both a complete step-by-step guide to mastering …
Buy Now ‣