Home-Smoked Pastrami
Steven Raichlen
Print
Home-Smoked Pastrami
Recipe Notes
Advance Prep: Curing time: 6 days
Yield: Serves 4 to 6
Method: Hot smoking
Equipment: 8 to 10 cups hardwood chips or chunks (apple, oak, cherry, or a combination), soaked in water to cover for 30 minutes, then drained
Ingredients
1 brisket flat with plenty of fat intact (about 4 pounds)
For the brine:
1 gallon water
2/3 cup kosher salt
1 teaspoon pink salt (Prague powder)
1 small onion, cut in half widthwise
8 cloves garlic, cut in half widthwise
For the spice rub:
1/2 cup cracked black peppercorns
1/2 cup coriander seeds
2 tablespoons mustard seeds
1 tablespoon brown sugar
1 teaspoon ground ginger
Recipe Steps
Step 1: Rinse off the brisket under cold running water and drain.
Step 2: Make the brine. Place the water, salt, and pink salt in a large mixing bowl or plastic tub and whisk until the salt crystals are dissolved. Stir in the onion and garlic. Add the brisket, weighing it down with a glass bowl. (Alternatively, place the brisket and brine in a double layer of jumbo resealable plastic bags and place in a large roasting pan.) Brine it in the refrigerator for 6 days, turning the brisket once a day so it cures evenly.
Step 3: Meanwhile, the last day, make the rub. Place the peppercorns, coriander seeds, mustard seeds, brown sugar, and ginger in a food processor and grind to a coarse powder, running the machine in short bursts. The final rub should feel gritty, like coarse sand.
Step 4: Drain the brisket, rinse under cold water, and blot dry with paper towels. Place it in a roasting pan and thickly crust it on both sides with the spice rub.
Step 5: Set up your smoker for hot smoking according to the manufacturer's directions and preheat to 225 degrees.
Step 6: Place the pastrami fat side up in the smoker and add 2 cups wood chips or chunks (or whatever your manufacturer recommends). Smoke the brisket until crusty and black and cooked through (the internal temperature will be about 175 degrees), about 8 to 10 hours. Wrap the pastrami in non-plastic lined butcher paper. Continue smoking until the internal temperature is 195 degrees and the meat is tender enough to pierce with a gloved finger or wooden spoon handle, 2 to 3 hours more.
Step 7: Transfer the pastrami to an insulated cooler and let rest for at least 1 hour. Slice crosswise (against the grain) for serving. You don't really need a sauce or condiment, but I wouldn't say no to some horseradish mustard. If you want to serve the pastrami cold, chill it thoroughly, then slice thinly on a meat slicer.
Recipe Tips
Find This Recipe
And More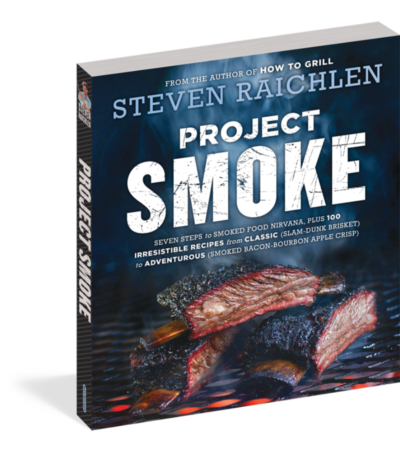 New York Times Bestseller Project Smoke is the How to Grill of smoking, both a complete step-by-step guide to mastering …
Buy Now ‣