Hot Smoked Black Cod
Steven Raichlen
Print
Hot Smoked Black Cod
Recipe Notes
Yield: Makes 2 pounds
Method: Hot smoking
Equipment: XL Big Green Egg; alder wood
Ingredients
2 pounds black cod fillets
For the rub:
1 tablespoon fennel seed
1 tablespoon coriander seed
1 tablespoon white peppercorns
3 bay leaves, crumbled
2/3 cup kosher salt
1/4 cup granulated sugar
1/4 cup brown sugar
Recipe Steps
Step 1: Run your fingers over the black cod fillets, feeling for bones. Pull out any you find with needle nose pliers. I leave the skin on—it provides structure to this delicate fish.
Step 2: Make the rub: Heat a dry cast iron skillet over a medium flame. Add the fennel seed, coriander, peppercorns and bay leaves and roast until fragrant and lightly browned, 2 minutes. Transfer to a mixing bowl and let cool. Grind the roasted spices to a fine powder in a spice mill. Return them to the mixing bowl. Stir in the salt and sugars.
Step 3: Place the cod fillets on a rimmed baking sheet. Thickly crust each with rub, rubbing into the flesh. Tightly wrap each fillet in plastic wrap. Cure skin side down on a rimmed baking sheet in the refrigerator for 3 hours.
Step 4: Unwrap the fish and rinse all the cure off under cold running water. Blot the cod dry on a baking sheet spread with paper towels, blotting the top with additional paper towels. Let dry on a wire rack in the refrigerator for 30 minutes.
Step 5: Set up your smoker following the manufacturer's instructions and preheat to 250 degrees. Add the wood as specified by the manufacturer.
Step 6: Place the cod skin side down on the smoker racks (oil them or the skin side of the fish first to prevent sticking). Smoke the fish until golden brown, crisp at the edges, and just cooked through, about 1 hour. To test for doneness, press it with your finger—the flesh will break into clean flakes. Alternatively, insert the probe of an instant-read thermometer through the thick end of the fish into the center. The internal temperature should be 140 degrees.
Step 7: Remove the rack and let the cod cool to room temperature, then refrigerate until serving. It will keep in the refrigerator for at least 3 days or in the freezer for several months.
Find This Recipe
And More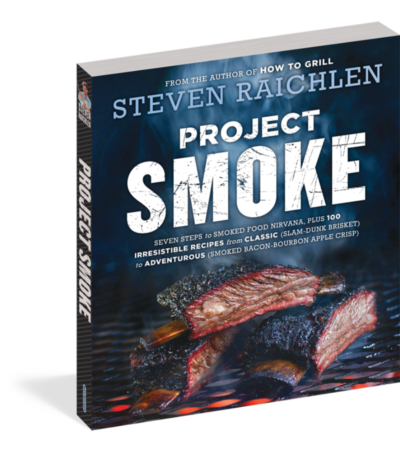 New York Times Bestseller Project Smoke is the How to Grill of smoking, both a complete step-by-step guide to mastering …
Buy Now ‣