Indian Tandoori Marinade
Steven Raichlen
India's contribution to the world of barbecue is tandoori: meats, seafood, or vegetables marinated to a jumpsuit orange in a pungent paste of yogurt, aromatic vegetables, and spices, then grilled on vertical skewers in a blazing clay barbecue pit known as a tandoor. Good tandoori balances the tartness of the lemon juice with ginger and spices, the fire of chiles with the soothing coolness of yogurt. I've made the food coloring optional, but know that no self-respecting Indian barbecue buff would dream of making tandoori without it.
Indian tandoori wallahs drain yogurt in cheesecloth to remove the excess liquid to make a marinade of incomparable richness. Start with Greek-style yogurt, which comes drained already, and you can omit this step.
Print
Indian Tandoori Marinade
Recipe Notes
Yield: Makes 2 cups, enough for 1 cut-up chicken or 2 to 3 pounds of lamb or seafood
Ingredients
2 teaspoons coriander seeds
1 teaspoon black peppercorns
1 teaspoon cumin seeds
1 teaspoon mace blades
1/2 teaspoon fennel seeds
4 cardamom pods
2 whole cloves
1/2 cinnamon stick (about 1 inch)
1/2 teaspoon saffron threads
1 tablespoon hot water
1 small onion, peeled and coarsely chopped
6 cloves garlic, peeled and coarsely chopped
6 slices (each 1/4 inch thick) peeled fresh ginger, coarsely chopped
2 jalapeño peppers, preferably red, seeded and coarsely chopped
3 tablespoons fresh lemon juice
3 tablespoons vegetable oil
2 cups plain whole milk yogurt, preferably Greek-style
2 teaspoons coarse salt (sea or kosher)
2 to 4 drops orange food coloring (optional)
Recipe Steps
1: Heat a dry skillet over medium heat. Add the coriander, peppercorns, cumin, mace, fennel, cardamom, cloves, and cinnamon. Toast, shaking the pan, until fragrant, 3 minutes. Transfer the spices to a bowl to cool. Grind to a fine powder in a spice mill.
2: Crumble the saffron threads between your thumb and forefinger and place in a small bowl with hot water. Let the saffron infuse for 10 minutes.
3: Combine the onion, garlic, ginger, chiles, lemon juice, and oil in a blender or mini processor and purée to a smooth paste. You may need to add a tablespoon or so of water to obtain a paste.
4: Combine the yogurt, spices, saffron mixture, onion paste, salt, and food coloring, if using, in a bowl and stir to mix. Use within a few hours of making.
Recipe Tips
Use skinless chicken pieces to make chicken tandoori. Cover and marinate in the refrigerator for at least\ 6 hours and preferably overnight. Marinate lamb the same way. Marinate seafood for 2 to 4 hours, depending on the size of the pieces (marinate bigger pieces longer than smaller pieces).
Find This Recipe
And More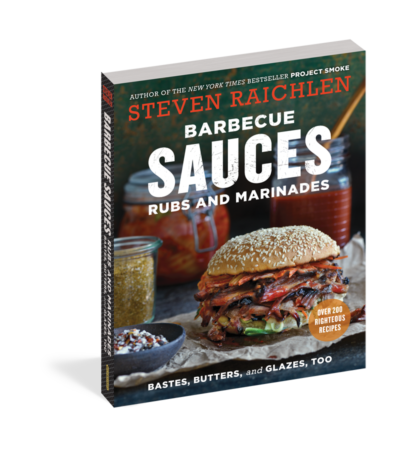 Barbecue sauces, rubs, and marinades are every griller's secret weapon—the flavor boosters that give grilled food its character, personality, depth, and soul. Steven Raichlen, America's "master griller" (Esquire), has completely updated and revised his bestselling encyclopedia of chile-fired rubs, lemony marinades, buttery bastes, pack-a-wallop sauces, plus mops, slathers, sambals, and chutneys. It's a cornucopia of […]
Buy Now ‣