Jerk Marinade
Steven Raichlen
Jerk is a traditional ethnic food that has entered America's culinary mainstream. In the process, it's lost a lot of its fire, spice, and salt. Here's how they make it in the birthplace of jerk—a town called Boston Beach on the north coast of Jamaica. Count yourself lucky to have a blender. In Boston Beach they grind the seasonings in a hand-cranked spice mill. Use the jerk marinade to marinate chicken legs or breasts for three hours, pork for six hours, and fish fillets or shrimp for one hour.
Print
Jerk Marinade
Recipe Notes
Yield: Makes about 2 cups
Ingredients
4 to 15 Scotch bonnet chiles, seeded (for a hotter marinade, leave the seeds in)
1 bunch scallions, both white and green parts, trimmed and coarsely chopped
2 shallots, cut in half
1 small onion, quartered
2 cloves garlic, peeled
1 tablespoons grated peeled fresh ginger
2 teaspoons chopped fresh thyme, or 1 teaspoon dried thyme
1 teaspoons ground allspice
3 tablespoons canola oil
3 tablespoons soy sauce
3 tablespoons fresh lime juice, or more to taste
2 tablespoons dark brown sugar
2 tablespoons salt, or more to taste
1 teaspoons freshly ground black pepper
Recipe Steps
Step 1: Combine the Scotch bonnets, scallions, shallots, onion, garlic, ginger, thyme, allspice, oil, soy sauce, lime juice, brown sugar, salt, pepper, and 1 cup of water in a food processor or blender. Process until smooth. Taste for seasoning, adding more lime juice and/or salt as necessary. The jerk marinade can be refrigerated, tightly covered, for up to 2 weeks.
Recipe Tips
This makes enough marinade for 4 pounds of meat, chicken, or seafood.
Find This Recipe
And More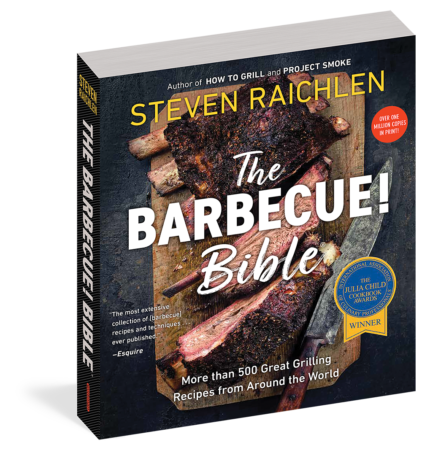 Steven Raichlen's Barbecue! Bible offers the biggest collection of barbecue recipes and grilling recipes ever developed.
Buy Now ‣