Jerk Pork Tenderloin
Steven Raichlen
Traditional Jamaican jerk would be made with a whole pig, boned and spread open like a book, marinated with fiery jerk seasoning, and smoke grilled over smoldering allspice wood. Here's a home version that can be made with pork tenderloin.
Print
Jerk Pork Tenderloin
Recipe Notes
Advance Prep: At least 4 hours for marinating the meat
Equipment: 2 cups hickory or oak chips or chunks, soaked for 1 hour in cold water to cover and drained
Ingredients
2 pounds pork tenderloin (3 to 4 tenderloins)
2 to 16 Scotch bonnet chiles, seeded (for a hotter jerk, leave the seeds in)
2 bunches scallions, both white and green parts, trimmed and cut into 1-inch pieces
½ medium-size onion, cut into 1-inch pieces
1 piece (1 inch) peeled fresh ginger, thinly sliced
3 cloves garlic, peeled
1 tablespoon fresh thyme, or 2 teaspoons dried thyme
2½ teaspoons ground allspice
½ teaspoon freshly ground black pepper
½ teaspoon freshly grated nutmeg
¼ teaspoon ground cinnamon
¼ cup distilled white vinegar
3 tablespoons soy sauce
3 tablespoons coarse salt (kosher or sea)
1 tablespoon light brown sugar
2 tablespoons vegetable oil, plus 1 to 2 tablespoons vegetable oil, for basting
Recipe Steps
Step 1: Using the tip of a paring knife, make holes ¼ inch deep all over each pork tenderloin. Place the tenderloins in a large nonreactive baking dish and set aside while you prepare the seasoning.
Step 2: Combine the Scotch bonnets, scallions, onion, ginger, and garlic in a food processor and process until finely chopped. Add the thyme, allspice, pepper, nutmeg, cinnamon, vinegar, soy sauce, salt, brown sugar, and the 2 tablespoons of oil and process to a smooth puree. Or puree all of these ingredients in a blender.
Step 3: Using a rubber spatula, spread the seasoning mixture over the tenderloins, stuffing it into the holes. Let the tenderloins marinate in the refrigerator, covered, for at least 4 hours, or as long as overnight, turning the meat several times.
Step 4: Set up the grill for direct grilling.
If using a gas grill, place the wood chips in the smoker box and preheat the grill to high; when smoke appears, lower the heat to medium.
If using a charcoal grill, preheat it to medium.
Step 5: When ready to cook, if using a charcoal grill, toss the wood chips on the coals. Brush and oil the grill grate. Arrange the pork tenderloins on the hot grate and grill, turning with tongs and brushing occasionally with oil, until nicely browned on both sides and cooked through, 8 to 10 minutes per side. When not turning the meat, keep the grill covered to hold in the smoke.
Step 6: Transfer the pork to a cutting board and let rest for 5 minutes, then cut it into thin diagonal slices and serve.
Find This Recipe
And More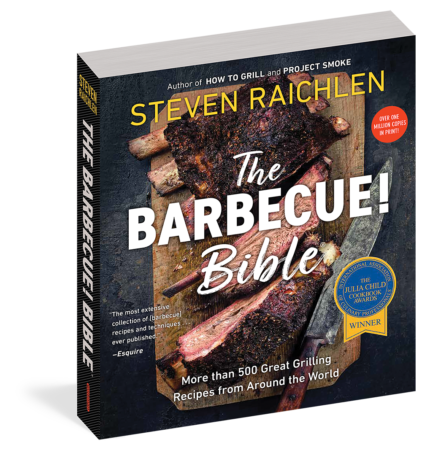 Steven Raichlen's Barbecue! Bible offers the biggest collection of barbecue recipes and grilling recipes ever developed.
Buy Now ‣