Korean Honey-Sesame Marinade
Steven Raichlen
Few flavorings are as beguiling as the dark, nutty, sweetsalty marinade Koreans use on butterflied beef ribs and rib eye steak. Generally, the meats are thinly sliced, so the marinating and cooking times are brief.
Print
Korean Honey-Sesame Marinade
Recipe Notes
Yield: Makes 2 cups, enough for 2 pounds of meat or seafood
Ingredients
1/2 cup soy sauce
1/4 cup Asian (dark) sesame oil
1/4 cup sugar
1/4 cup sake or dry sherry
4 cloves garlic, peeled and minced
4 scallions (white and green parts), trimmed and finely chopped
2 tablespoons toasted sesame seeds
1 tablespoon minced fresh ginger
1 teaspoon gochugaru (Korean hot pepper powder), or hot paprika
1/2 teaspoon freshly ground black pepper
1 small Asian pear or regular pear, peeled, cored, and diced
Recipe Steps
1: Combine all the ingredients for the marinade in a blender or food processor and blend to a smooth purée. The marinade tastes best used within a few of hours of making.
Recipe Tips
This is the classic marinade for bul kogi (grilled thinly sliced beef) and kalbi kui (grilled butterflied short ribs), but it also delivers for chicken, seafood, tofu, and vegetables, like shiitake mushrooms. Marinate butterflied beef ribs for 4 to 6 hours; steaks or chicken breasts for 1 to 2 hours, covered, in the refrigerator.
Find This Recipe
And More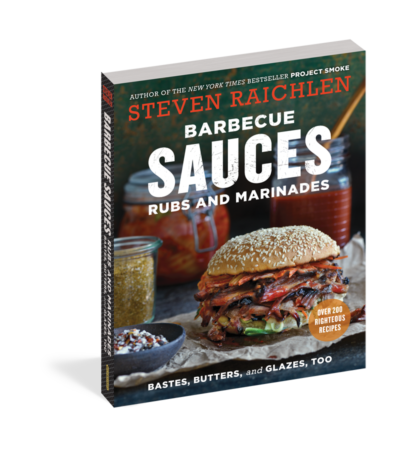 Barbecue sauces, rubs, and marinades are every griller's secret weapon—the flavor boosters that give grilled food its character, personality, depth, …
Buy Now ‣