Kurdish Pumpkin Dip
Steven Raichlen
Print
Kurdish Pumpkin Dip
Recipe Notes
Ingredients
1 pound pumpkin (pie or sugar pumpkin), butternut squash, or other orange squash, cut in pieces and seeded
1/2 cup walnuts, toasted (optional) and coarsely chopped
1 to 2 cloves garlic, minced
2/3 cup thick (Greek-style) plain yogurt
1/3 cup extra-virgin olive oil or vegetable oil
Coarse salt (kosher or sea) and freshly ground black pepper
3 tablespoons finely chopped fresh flat-leaf parsley
Grilled Pita Wedges, for serving (see step 5)
Recipe Steps
Step 1: Set up the grill for direct grilling and preheat to medium.
Step 2: When ready to cook, brush and oil the grill grate. Arrange the pumpkin on the hot grate, skin-side down. Grill until darkly browned on the outside and tender, 10 to 15 minutes per side. Use a metal skewer to test for doneness; it should penetrate the pumpkin flesh easily. Transfer the pumpkin pieces to a cutting board and let them cool, then trim off the skin and cut the pumpkin flesh into 1-inch pieces. The pumpkin can be grilled up to a day ahead and refrigerated, covered.
Step 3: Set aside 1 tablespoon of walnuts for garnish. Place the remaining walnuts and the garlic in a food processor fitted with a metal blade and very finely chop them. Add the pumpkin and puree to a smooth paste. Work in the yogurt and about 1/4 cup olive oil and process to the consistency of a thick dip. Season the dip with salt and pepper to taste. Add the parsley and pulse the machine once or twice to mix. Do not overprocess or the dip will turn green.
Step 4: To serve, mound the pumpkin dip in a serving bowl. Make a depression in the center of the dip and fill it with the remaining 1 tablespoon of olive oil. Sprinkle the reserved 1 tablespoon of walnuts on top of the pumpkin and serve the dip with Grilled Pita Wedges.
Step 5: For the grilled pita wedges, brush 4 pita breads on both sides with olive oil and sprinkle with white sesame seeds. Grill over medium-high heat until the breads are toasted and browned, 1 to 2 minutes per side. (Watch carefully so they don't burn.) Transfer to a cutting board and cut each into 6 wedges.
Find This Recipe
And More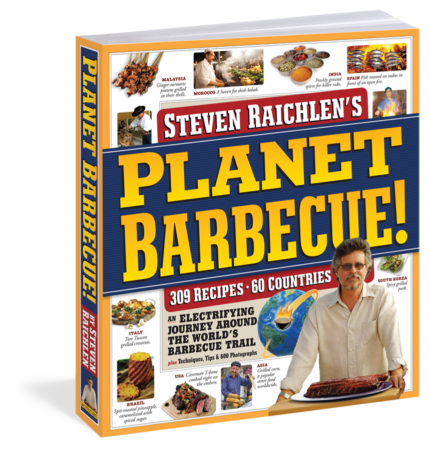 The most ambitious book yet by America's bestselling, award-winning grill expert whose Barbecue! Bible books have over 4 million copies in print. Setting out—again—on the barbecue trail four years ago, Steven Raichlen visited 60 countries—yes, 60 countries—and collected 309 of the tastiest, most tantalizing, easy-to-make, and guaranteed-to-wow recipes from every corner of the globe. Welcome […]
Buy Now ‣