Lexington Vinegar Sauce
Steven Raichlen
Where do you stand in the great eastern North Carolina versus western North Carolina sauce fight? Folks in the eastern part of the state like a sauce that's based on vinegar, while in the west they prefer a sauce that's slightly sweeter and tinted red with ketchup.
Print
Lexington Vinegar Sauce
Recipe Notes
Ingredients
2-1/2 cups cider vinegar
1/2 cup ketchup
2 tablespoons brown sugar
1 tablespoon hot sauce (preferably Crystal hot sauce)
4 teaspoons salt
4 teaspoons hot red pepper flakes
1 teaspoon freshly ground pepper
1 teaspoon white pepper
1-1/2 rub reserved from Lexington Pulled Pork Shoulder, or your favorite barbecue rub
Recipe Steps
Step 1: Combine the vinegar, ketchup,brown sugar, hot sauce, salt, hot red pepper flakes, black pepper, white pepper, and rub in a large nonreactive bowl with 1/2 cup of water. Whisk until the sugar and salt dissolve. Alternatively, place the ingredients in a large jar and shake to mix.
Step 2: Store in a jar in the refrigerator and the sauce will keep for several weeks. bring to room temperature before using
Find This Recipe
And More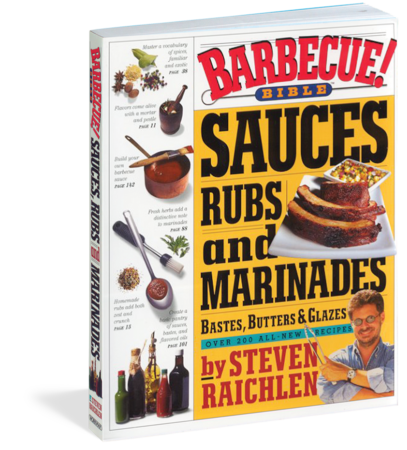 Marinate skewers of beef tips in Tex-Mex Tequila-Jalapeno Wet Rub before putting them on the grill. Or slather pork chops …
Buy Now ‣