Lone Star Steak Rub
Steven Raichlen
If you want a rub with plenty of heat and not a lick of sugar, this lean, mean seasoning is your ticket. There are some foods God never meant to be sweetened, among them the steaks (especially T-bones) and briskets of which Texans are so rightfully proud. Use this rub whenever big flames are called for and don't use more than you mean to. It burns.
Print
Lone Star Steak Rub
Recipe Notes
Ingredients
1/2 cup coarse salt (sea or kosher)
1/2 cup cracked or coarsely ground black pepper
1/4 cup sweet or smoked paprika
3 tablespoons pure chile powder (not a blend)
2 tablespoons ground cayenne pepper
2 tablespoons garlic powder
1 tablespoon ground cumin
1 tablespoon dried oregano
1 tablespoon dried thyme
Recipe Steps
Step 1: Combine all the ingredients in a bowl and stir or whisk to mix. Transfer to a large jar, cover, and store away from heat and light. The rub will keep for several weeks.
Recipe Tips
Try this: Beef is the logical destination for this lip-searing rub, especially steak, roasts, and brisket. But don't overlook its use on chicken, pork, or even seafood. As for grilled vegetables, well, it's great there, too.
Find This Recipe
And More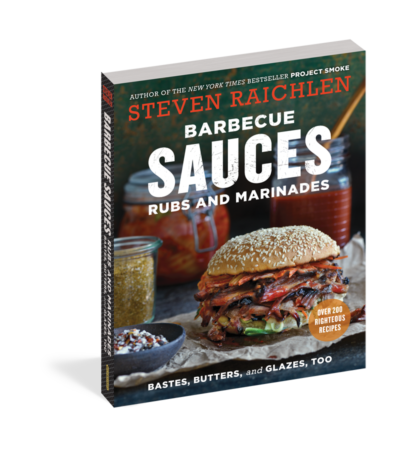 Barbecue sauces, rubs, and marinades are every griller's secret weapon—the flavor boosters that give grilled food its character, personality, depth, and soul. Steven Raichlen, America's "master griller" (Esquire), has completely updated and revised his bestselling encyclopedia of chile-fired rubs, lemony marinades, buttery bastes, pack-a-wallop sauces, plus mops, slathers, sambals, and chutneys. It's a cornucopia of […]
Buy Now ‣