Holy Grail Mangalitsa Ham with Jamaican Jerk Pineapple Brown Sugar Glaze
Steven Raichlen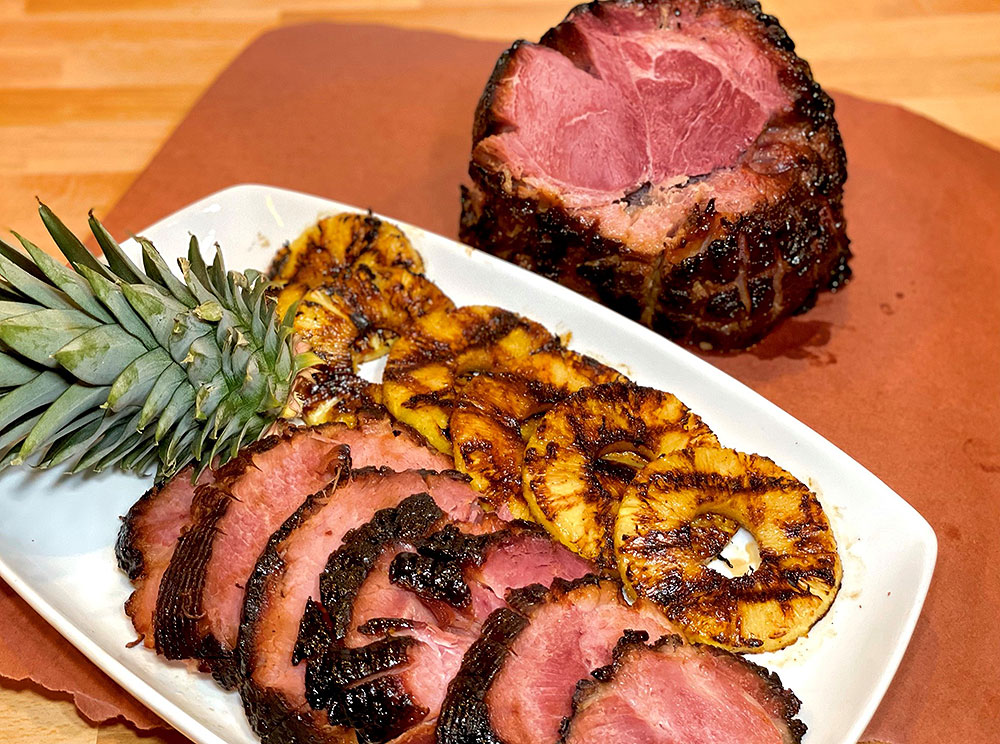 It looks a bit like a football. It comes from a hog known as "the Kobe beef of pork." It's sweet, salty, and smoky, the way a proper ham should be—but with a flavor that seems to go on forever. And it's about to get even better—burnished with a pineapple-brown sugar glaze and electrified with Jamaican jerk seasoning.
Print
Holy Grail Mangalitsa Ham with Jamaican Jerk Pineapple Brown Sugar Glaze
Recipe Notes
Yield: Makes 1 6-pound ham, enough to serve 10 to 12
Ingredients
For the glaze
1-1/2 cups dark brown sugar
1-1/2 cups pineapple juice
1 to 2 tablespoons Jamaican jerk seasoning
1 ripe pineapple, peeled, cored, and cut crosswise into 1/2 inch thick slices
Vegetable oil for oiling the grill grate
You'll also need:
Wood chunks, preferably apple or cherry; long sharp knife; pastry brush
Recipe Steps
1: Set up your grill, such as a Big Green Egg, for indirect grilling and heat to 350 degrees. Use a sharp knife to make a crosshatch pattern (approximately 1/4 inch deep) in the surface of the ham.
2: Make the glaze: Combine the brown sugar, pineapple juice, and jerk seasoning in a saucepan. Bring to a. boil over medium-high heat; then reduce the heat to medium and cook until the glaze is thick and syrupy., 8 to 10 minutes
3: Brush and oil the grill grate. Add 3 or 4 wood chunks to the coals. Place the ham on the grate and heat for 30 minutes. Begin glazing the ham after 30 minutes, reapplying the glaze at 20-minute intervals until the ham reaches an internal temperature of 160 degrees, 2 1/2 to 3 hours. Place the ham on a wire rack over a rimmed sheet pan lined with foil (for easier clean-up).
4: In the meantime, heat your grill to medium-high and brush the pineapple slices with some of the remaining glaze. Grill for 2 minutes per side. Slice the ham with a long thin knife into 1/4 inch slices. Shingle on a platter along with the pineapple. Serve any remaining glaze on the side.