Meatballs with Parmesan and Herbs
Steven Raichlen
Print
Meatballs with Parmesan and Herbs
Recipe Notes
Total Time: 1 hour (30 minutes of which is chilling the meat and cooking)
Yield: 24 Meatballs
Ingredients
1-1/2 cups cubed white bread
1/2 cup half-and-half
2 tablespoons extra virgin olive oil
2 slices bacon, finely chopped
1 medium onion, finely chopped (about 3/4 cup)
1 to 2 cloves garlic, finely chopped
1 pound ground beef
1/2 pound ground pork
1/2 pound ground veal (or more pork or veal)
1 teaspoon coarse salt (kosher or sea)
1/2 teaspoon freshly ground black pepper
1 cup finely grated imported Parmigiano Reggiano cheese
2 tablespoons minced fresh herbs, including basil, sage leaves, and flatleaf parsley,
Recipe Steps
1: Set up your grill for indirect grilling and heat to medium-high.
2: Place the bread in a large mixing bowl and stir in the half-and-half. Let soak for 3 minutes, then thoroughly wring out and drain off the half-and-half.
3: Meanwhile, heat 1 tablespoon olive oil in a large cast-iron skillet over medium heat. Add the bacon, onion, and garlic and cook until golden brown, 3 minutes, stirring with a slotted spoon. Using a slotted spoon, transfer the bacon mixture to the soaked bread, leaving the fat in the pan. Let this mixture cool completely.
4: Add the beef, pork, veal, salt, and pepper to the bread mixture. Add the cheese and herbs and knead the mixture together until just mixed, working with a light touch. To test the meatballs for seasoning, fry a little ball of the mixture in the skillet until cooked through, 3 minutes. Taste and add flavorings as needed. Chill the mixture for 30 minutes first.
5: Lightly wet your hands with cold water. Pinch off 1-1/2 inch pieces of the mixture and roll them into balls between your palms. Place the meatballs on a baking sheet.
6: When ready to cook, brush or scrape your grill grate clean and oil it very well. Add 2 chunks of smoking hardwood or 1 1/2 cups of wood chips (soaked in water to cover for 30 minutes, then drained) to the coals or smoking box. Arrange the meatballs in the center of the grill grate away from direct flames. Grill, turning carefully with tongs, for 15 to 20 minutes, or until there is no pink in the center. The internal temperature should be 160 degrees.
Find This Recipe
And More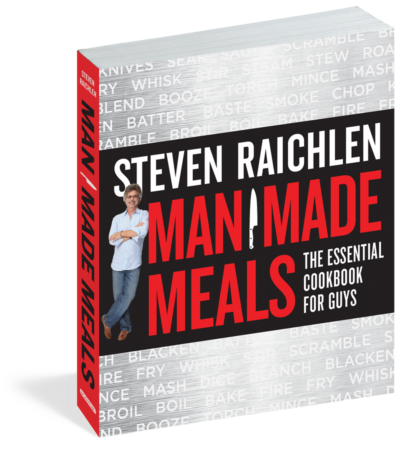 Man Made Meals is about the tools and techniques (guess what, grillers, you still get to play with knives and fire.) …
Buy Now ‣