Mole Poblano
Steven Raichlen
Mole poblano is Mexico's most famous sauce—a dark, rich, rib-sticking gravy brewed from nuts, raisins, chilies, spices, and chocolate.
Print
Mole Poblano
Recipe Notes
Total Time: Makes 4 cups; enough to serve 8 to 10
Ingredients
2 ancho chilies
2 mulato chilies
2 pasilla chilies
2 guajillo chilies
1 to 2 dried chipotle chilies
4 ripe plum tomatoes
1 medium onion, quartered
3 cloves garlic, peeled
1 corn tortilla, torn into 2-inch pieces
3 tablespoons slivered almonds
3 tablespoons sesame seeds
1/2 teaspoon black peppercorns
1/2 teaspoon coriander seeds
1 piece (1 inch) cinnamon stick
2 whole cloves
1/4 teaspoon aniseed
Hot water, for soaking the chilies
1/4 cup chopped fresh cilantro
3 tablespoons golden raisins
2 cups chicken broth, or more if needed, warm
1/4 cup lard or olive oil
1 ounce unsweetened chocolate
2 teaspoons honey, or more to taste
1 tablespoon red wine vinegar, or more to taste
Coarse salt (kosher or sea), to taste
Recipe Steps
Step 1: Heat a comal or dry cast-iron skillet over medium heat. Roast the chilies until fragrant, 1 to 2 minutes per side. Transfer to a platter to cool. Roast the tomatoes, onion, and garlic until browned on all sides. The garlic will take 4 to 6 minutes, the tomatoes and onion, 10 to 12 minutes. Set aside to cool. Toast the tortilla until crisp and brown, 3 minutes per side. Set aside to cool. Toast the almonds, shaking the pan to ensure even browning, until toasted and fragrant but not too brown, 2 to 3 minutes. Set aside to cool. Toast and cool the sesame seeds the same way. Add the peppercorns, coriander, cinnamon, and cloves to the pan and toast until fragrant and toasted, 2 minutes. Do not let the spices burn. Let cool.
Step 2: Transfer the toasted peppercorns, coriander, cinnamon, and cloves and the aniseed to a spice mill and grind to a fine powder. Breathe a sigh of relief: The hard part is over.
Step 3: Tear the roasted chilies in half and remove the stems, veins, and seeds. Place the chilies in a bowl with hot water to cover. Soak until pliable, about 30 minutes, and drain well.
Step 4: Place the tomatoes in a blender. Add the onion, garlic, chilies, corn tortilla, almonds, sesame seeds, ground spices, cilantro, and raisins. Work in several batches if needed. Purée to a smooth paste, scraping down the sides of the blender bowl several times with a rubber spatula. If the mixture is too dry to purée, add a little chicken broth.
Step 5: Heat the lard in a large, deep skillet or saucepan over medium heat. Add the chili mixture and cook, stirring constantly, until thick and fragrant, 5 minutes. Reduce the heat and stir in the broth, chocolate, honey, vinegar, and salt. Simmer the sauce, stirring occasionally with a wooden spoon, until thick and richly flavored, 10 minutes. The mole should be thick but pourable; add as needed. It should be very flavorful, with just the faintest hint of sweetness; add salt, vinegar, or just the least bit of honey. Use right away or transfer to jars, cover, cool to room temperature, and refrigerate. The mole will keep for several weeks.
Find This Recipe
And More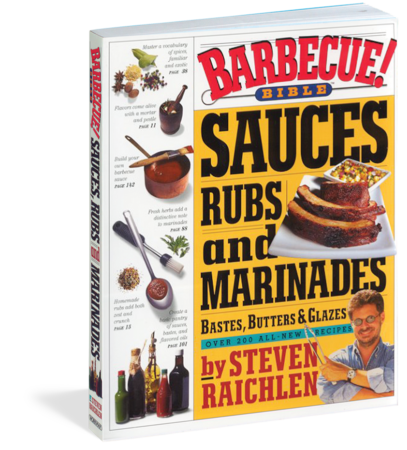 Marinate skewers of beef tips in Tex-Mex Tequila-Jalapeno Wet Rub before putting them on the grill. Or slather pork chops …
Buy Now ‣