Moroccan Grilled Pepper Salad
Steven Raichlen
Forget about the twelfth century Koutoubia Mosque or the Jemaa el Fna (the medieval city square). The real marvel of Marrakech is its salad. Or more precisely the array of salads-anywhere from a dozen to more than twenty served at the start of a traditional formal Moroccan meal. This one will pique the interest of grill lovers: a flame-roasted pepper salad flavored with cumin, onion, and mint. Normally I would tell you to grill all of the vegetables, but here I like the traditional Moroccan contrast of smoky grilled pepper and crisp raw onions and tomatoes.
Serve this with Moroccan Lamb Shoulder with Tomatoes and Peppers.
Other Recipes from Episode 210: Shoulder On
Print
Moroccan Grilled Pepper Salad
Recipe Notes
Advance Prep: The peppers can be grilled up to 48 hours ahead.
Yield: 4 to 6 servings
Method: Direct Grilling
Ingredients
4 green bell peppers, 5 poblano peppers, or 3 red bell peppers, plus 3 Anaheim or Cubanelle peppers
2 luscious, red ripe tomatoes, seeded and cut into 1/4-inch dice
1/2 sweet onion, cut into 1/4-inch dice
3 tablespoons chopped fresh mint, cilantro, or flat-leaf parsley (not too finely chopped)
1/2 teaspoon ground cumin
3 tablespoons extra-virgin olive oil
1 tablespoon fresh lemon juice, or more to taste
1 tablespoon red wine vinegar, or more lemon juice
Coarse salt (kosher or sea) and freshly ground black pepper
Recipe Steps
Step 1: Set up the grill for direct grilling and preheat it to high. There is no need to brush or oil the grill grate.
Step 2: Arrange the peppers on the hot grate and grill them until the skins are darkly browned and blistered on all sides, 3 to 4 minutes per side, 12 to 16 minutes in all, turning with tongs. Don't forget to grill the tops and bottoms of the peppers for 1 to 2 minutes. The idea is to char the skins completely. Transfer the grilled peppers to a cutting board and let them cool to room temperature. (No, you don't need to place them in a paper bag or bowl covered with plastic wrap. I've found no appreciable difference in ease of peeling.)
Step 3: Using a paring knife, scrape the charred skins off the peppers. There's no need to remove every last bit; a few black spots will add color and flavor. Cut each pepper in half, remove the core, and scrape out the seeds. Cut each pepper into 1/4-inch dice and place them in a nonreactive mixing bowl.
Step 4: Add the tomato, onion, mint, cumin, olive oil, lemon juice, and wine vinegar, if using, and toss to mix. Season with salt and black pepper to taste; the salad should be highly seasoned. The salad can be prepared several hours ahead, but taste it for seasoning just before serving, adding more salt and/or black pepper as necessary.
Recipe Tips
Moroccan peppers are sweeter than green bell peppers and milder than Mexican poblanos. You could use either or a mix of both. For a not strictly traditional but highly tasty version, use three red bell peppers (sweeter than green in the way that Moroccan peppers are sweeter than our bell peppers), plus three Anaheim or Cubanelle peppers. You'll need about four cups of roasted peppers in all.
Our thanks to the sponsors of Project Fire Season 2:

Steven Raichlen's Project Fire is a production of Maryland Public Television, Barbacoa, Inc., and Resolution Pictures. © 2019 Barbacoa, Inc. Photos by Chris Bierlein.
Find This Recipe
And More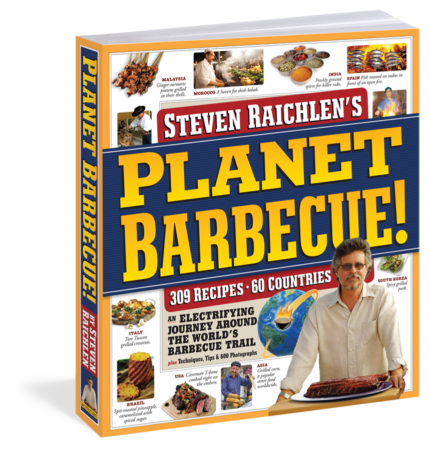 The most ambitious book yet by America's bestselling, award-winning grill expert whose Barbecue! Bible books have over 4 million copies in print. Setting out—again—on the barbecue trail four years ago, Steven Raichlen visited 60 countries—yes, 60 countries—and collected 309 of the tastiest, most tantalizing, easy-to-make, and guaranteed-to-wow recipes from every corner of the globe. Welcome […]
Buy Now ‣