PB&J (Pepper Jack, Bacon, and Jalapeño) Corn Bread
Steven Raichlen
I grew up in a bagel and challah sort of household, so I came relatively late to corn bread. It was not, I confess, love at first bite. I found this Southern staple gritty and dry, and I understood why the Pilgrims adopted it with such reluctance. It didn't help that corn bread—like so much American food—has gotten progressively sweeter over the years, to the point where you're not quite sure whether commercial versions are meant to be eaten for breakfast or dessert. But corn bread accompanies a great many traditional guy foods—chili, split pea soup, gumbo—so I figured I should give it another chance.
There are three secrets to great corn bread: the cornmeal itself, the milk or buttermilk, and the flavorings. The cornmeal most guys reach for is the coarse gritty yellow stuff sold in cardboard containers at the supermarket. Pleasant enough, but you'll get far superior results with small batch, stone-ground, pale yellow or white cornmeal from an artisanal gristmill in New England or the South. (My favorites include Haldeman Mills, Gray's Grist Mill, and Kenyon's Grist Mill.) Most recipes call for milk, but you'll get a more complex flavor if you use part milk and part buttermilk, or even half-and-half and buttermilk. As for the flavorings, I went with the ingredients I use to remedy any dry or bland food: P (pepper Jack cheese), B (bacon), and J (jalapeños). Lesson for neophytes: When in doubt, add bacon, chiles, and cheese. I give you Raichlen's PB&J corn bread. No jelly needed.
Print
PB&J (Pepper Jack, Bacon, and Jalapeño) Corn Bread
Recipe Notes
Yield: Makes 8 wedges
Equipment: Your basic kitchen gear, including a large (10- to 12-inch) cast-iron skillet, and a mixing bowl
Ingredients
2 slices bacon, cut crosswise into 1/4-inch slivers
1 1/2 cups buttermilk or regular milk, or more as needed
2 large eggs
3 tablespoons unsalted butter, melted, or 3 tablespoons vegetable oil
1 cup yellow or white cornmeal, preferably stone-ground
1 cup unbleached all-purpose white flour
3 tablespoons brown sugar or honey
1 1/2 teaspoons baking powder
1/2 teaspoon baking soda, or an additional 1/2 teaspoon baking powder
1 scant teaspoon table salt
2 to 4 jalapeño peppers, seeded and finely chopped
1 cup coarsely grated pepper Jack cheese (4 ounces)
Recipe Steps
Step 1: Preheat the oven to 400°F.
Step 2: Brown the bacon in a large cast-iron skillet over medium heat, about 3 minutes. Using a slotted spoon, transfer the bacon to a mixing bowl, leaving the bacon fat in the skillet.
Step 3: Add the buttermilk, egg, and butter to the mixing bowl with the bacon and whisk to mix. Whisk in the cornmeal, flour, brown sugar or honey, baking powder, baking soda, salt, and jalapeños. Stir in the pepper Jack cheese. You want a pourable batter: If the mixture looks dry, add 1/4 cup more buttermilk or milk. Spoon the corn bread batter into the skillet and place it in the oven.
Step 4: Bake the corn bread until it is puffed and browned and starts to pull away from the side of the skillet, 25 to 30 minutes. Another test for doneness is to insert a bamboo skewer or toothpick in the center of the corn bread; when done, the toothpick should come out clean.
Step 5: Let the corn bread cool in the skillet for about 5 minutes, then cut it into 8 wedges for serving.
Recipe Tips
To up your corn bread game, buy the cornmeal at a natural foods supermarket. There you'll find stoneground yellow and white cornmeal—often made from organic corn.
Find This Recipe
And More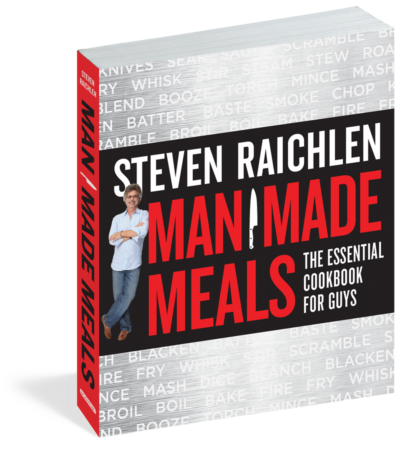 Man Made Meals is about the tools and techniques (guess what, grillers, you still get to play with knives and fire.) …
Buy Now ‣