Pig Picker Pucker Sauce
Steven Raichlen
The Carolinas (particularly the northeastern part of North Carolina) occupy a unique position in the realm of American barbecue. Unlike the rest of the country, which enjoys ketchup-based sauces, the preferred condiment here is a piquant mixture of vinegar and red pepper flakes, sometimes with just a touch of sugar to cut the acidity. Carolina-style pork is usually served chopped or shredded, so you need a thin sauce that can soak into the tiny pieces of meat. Put the pork and vinegar sauce together and you have some of the most damnably delectable barbecue ever to grace a bun.
Print
Pig Picker Pucker Sauce
Recipe Notes
Ingredients
1 1/2 cups cider vinegar
3/4 cup cold water
2 tablespoons sugar, or to taste
1 tablespoon hot pepper flakes
1 small onion, thinly sliced
1 1/2 tablespoons coarse salt (kosher or sea), or to taste
1/2 teaspoon freshly ground black pepper
Recipe Steps
Step 1: Combine all the ingredients in a bowl and stir until the sugar and salt are dissolved. Correct the seasoning, adding salt if desired.
Step 2: Serve this sauce on shredded barbecued pork.
Recipe Tips
Save a little of the sauce to mix with chopped cabbage and pile the resulting coleslaw on top of the pork on a hamburger bun.
Find This Recipe
And More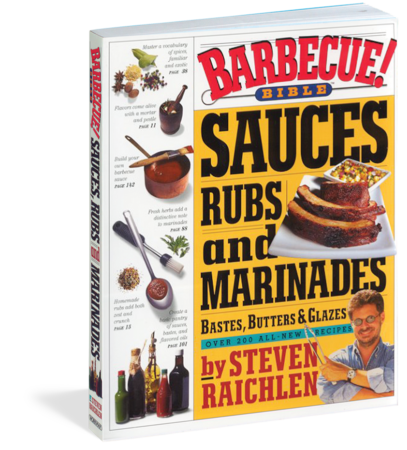 Marinate skewers of beef tips in Tex-Mex Tequila-Jalapeno Wet Rub before putting them on the grill. Or slather pork chops …
Buy Now ‣