Piri-Piri Prawns
Steven Raichlen
Print
Piri-Piri Prawns
Recipe Notes
Advance Prep: 30 minutes to 1 hours for marinating the prawns
Yield: 4 servings
Ingredients
6 tablespoons (3/4 stick) salted butter
3 piri-piri chiles, or other hot chiles, seeded and minced (for hotter prawns, leave the seeds in)
2 cloves garlic, minced
1 tablespoon minced peeled fresh ginger
1/3 cup fresh lemon juice
3 to 6 tablespoons piri-piri sauce or a hot sauce such as Tabasco
Coarse salt (kosher or sea) and freshly ground black pepper
4 giant prawns in the shells with the heads on (each 8 to 10 ounces), or 1-1/2 to 2 pounds headless shrimp in the shells
Recipe Steps
Step 1: Melt the butter in a nonreactive saucepan over high heat. Add the chiles, garlic, and ginger and cook until just beginning to brown, about 3 minutes. Immediately, add the lemon juice and piri-piri sauce and let simmer until syrupy and richly flavored, about 2 minutes. Season the mixture with salt and pepper to taste; the marinade should be highly seasoned. Let the marinade cool to room temperature.
Step 2: Meanwhile, cut each prawn in half lengthwise and, using the tip of a bamboo skewer or the tine of a fork, remove the vein running the length of the tail. Arrange the prawns, cut side up, in a nonreactive baking dish just large enough to hold them. Spoon half of the piri-piri marinade on top and spread it over the prawns. Set the remaining marinade aside to use as a baste and sauce. let the prawns marinate in the refrigerator, covered, for 30 minutes to 1 hour.
Step 3: Set up the grill for direct grilling and preheat it to high.
Step 4: Bring the reserve marinade to a boil, then remove it from the heat.
Step 5: When ready to cook, brush and oil the grill grate. Drain the prawns, discarding their marinade, and arrange them on the hot grate, cut side down, so they all face the same direction. Grill the prawns until they are browned on the cut side, 2 to 3 minutes. (If you are grilling shrimp, they will take about 2 minutes per side.) Turn the prawns, spoon a little of the boiled marinade over them, and continue grilling until the prawns are just cooked through, 3 to 5 minutes longer (they will feel firm to the touch). Do not overcook. Transfer the prawns to a platter or plates. Spoon the remaining mrinade on top and serve at once.
Find This Recipe
And More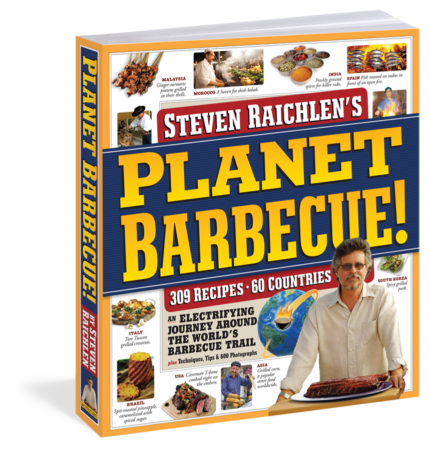 The most ambitious book yet by America's bestselling, award-winning grill expert whose Barbecue! Bible books have over 4 million copies …
Buy Now ‣