Plank-Smoked Camembert
Steven Raichlen
This simple smoked Camembert delivers big flavors (and great looks) by combining two distinctly American live-fire cooking techniques: planking and smoking. The former imparts the aromatic taste of charred cedar; the latter endows the cheese with complex smoke flavors undreamed of by French cheesemakers. The prep time is a couple of minutes; the wow power is off the charts.
Watch how it was done on Steven Raichlen's Project Smoke:
Print
Plank-Smoked Camembert
Recipe Notes
Yield: Serves 3 to 4 as an appetizer
Method: Smoke-roasting
Equipment: Memphis Wood Fire Grill; cedar plank; apple wood pellets
Ingredients
1 cedar plank (preferably a square plank 6 inches square)
1 Camembert or small Brie cheese (8 ounces)
3 tablespoons pepper jelly, tomato jam, or apricot jam
1 to 2 large jalapeño peppers, stemmed and thinly sliced crosswise
Crackers or grilled bread, for serving
Recipe Steps
Step 1: Set up your grill for smoke-roasting (indirect grilling) and preheat to medium-high (400 degrees).
Step 2: Place the plank directly on the grill grate and grill until singed on both sides. Set aside and let cool. (This step is optional, but it gives you a lot more flavor.)
Step 3: Place the cheese in the center of the plank. Spread the top with pepper jelly, using the back of a spoon. Shingle the jalapeños on top so the slices overlap in a decorative pattern.
Step 4: Place the plank on the grill away from direct heat and toss the wood chips or chunks on the coals (unnecessary if using a pellet grill). Smoke-roast the Camembert until the top browns and the sides are soft and beginning to melt, 8 to 10 minutes.
Step 5: Serve the Camembert on the plank hot off the grill. Spread it on grilled bread slices or interesting crackers.
Find This Recipe
And More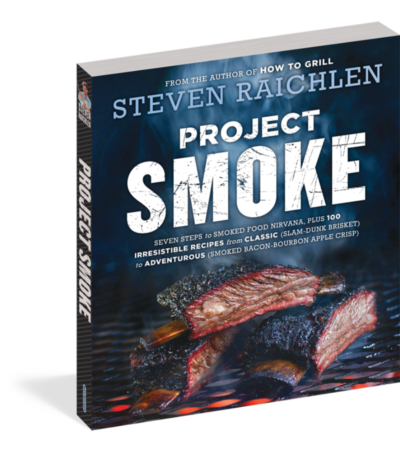 New York Times Bestseller Project Smoke is the How to Grill of smoking, both a complete step-by-step guide to mastering …
Buy Now ‣