Porchetta (Italian Garlic and Herb Stuffed Pork Loin)
Steven Raichlen
While porchetta does make amazing sandwiches, its highest calling (IMHO) comes when it's served whole. Your friends will gasp with admiration when you slice through the mahogany-colored crackling-crisp pork skin to reveal luscious layers of meat and pork fat, then shingle it on a large platter with grilled oranges and sprigs of fresh herbs. It's perfect for the holidays—relatively inexpensive, easy to slice, and a guaranteed crowd-pleaser.
Other Pork Loin Recipes:
Print
Porchetta (Italian Garlic and Herb Stuffed Pork Loin)
Recipe Notes
Yield: Serves 6
Equipment: Your basic kitchen gear, including a food processor, roasting pan, an instant-read thermometer, and 4 pieces of butcher's string each about 15 inches long
Ingredients
For the herb paste and pork roast:
4 cloves garlic, peeled and coarsely chopped
1/4 cup packed fresh sage leaves
1/4 cup packed fresh rosemary leaves
2 teaspoons coarse salt (kosher or sea)
1 1/2 tablespoons cracked black peppercorns
1 teaspoon fennel seeds
2 strips (each 1/2 by 2 inches) orange zest
1 tablespoon fresh lemon juice
1/3 cup extra virgin olive oil, or 3 more as needed
1 pork loin (3 pounds)
4 slices pancetta, unrolled into long strips
For serving (optional):
Ciabatta rolls
Olive relish
Caramelized onions
Recipe Steps
Step 1: Place the garlic, sage, rosemary, salt, pepper, fennel seeds, and orange zest in a food processor and finely chop them. Add in the lemon juice and enough olive oil to obtain a thick paste.
Step 2: Butterfly the pork loin: Place the pork loin on a cutting board. Using a long slender sharp knife, cut through from 1 side of the loin almost to the other side about 3/4 inch from the bottom. Roll open the pork. Continue cutting and unrolling the loin until you have a flat piece of pork that's evenly 3/4 inch thick. Generously spread the inside of the pork with 2 to 3 tablespoons of the herb paste and roll the loin back together so it's once again cylindrical. Generously spread the outside of the loin with more herb paste. Don't forget to coat the ends. The loin should be coated with a 1/8-inch-thick layer of paste. Set any left over paste aside for another use.
Step 3: Preheat the oven to 375°F.
Step 4: Tie up the stuffed loin: Arrange the 4 pieces of butcher's string going east to west on a work surface parallel to one another, each 1 inch or so apart. (Both ends of the loin should extend about 1 inch beyond the strings when they're tied.) Place 1 strip of pancetta down the center of the strings so that it is perpendicular (lay it north to south) to them. Arrange 2 more strips of pancetta parallel to and on either side of the first strip. Arrange the loin lengthwise on top of the middle strip of pancetta. Arrange the remaining strip of pancetta lengthwise on top of the loin. Pull the ends of each string up over the loin and tie them tightly together to hold the pancetta and loin in place. Put the pork loin in a roasting pan.
Step 5: Roast the pork until sizzling and brown on the outside and cooked to taste, 1 to 1 1/2 hours for medium. To test for doneness, insert an instant-read thermometer into the side of the loin; when done to medium the internal temperature should be 160°F, medium-well 175°F. As the loin cooks, from time to time spoon any juices that gather in the bottom of the roasting pan over the meat.
Step 6: Transfer the porchetta to a cutting board and let it rest for about 5 minutes. Remove and discard the strings. Cut the pork crosswise into 1/2-inch-wide slices. Serve the porchetta by itself (more formal) or pile it onto ciabatta rolls along with olive relish and caramelized onions.
Recipe Tips
Find This Recipe
And More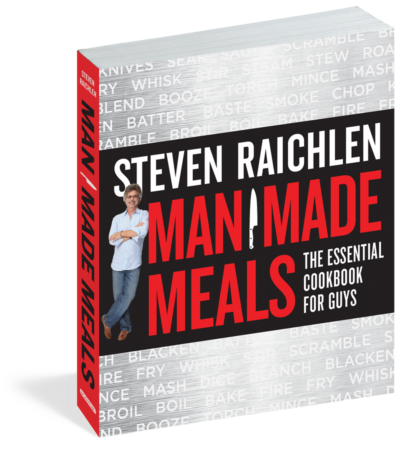 Man Made Meals is about the tools and techniques (guess what, grillers, you still get to play with knives and fire.) …
Buy Now ‣