Pork T-Bones on a Shovel
Steven Raichlen
Print
Pork T-Bones on a Shovel
Recipe Notes
Advance Prep: None
Yield: 4 servings
Method: Direct Grilling
Equipment: A clean metal shovel; logs, wood chunks or chips; for a more pronounced smoke flavor, soak the wood chips or chunks in water to cover for 30 minutes, then drain them
Ingredients
4 pork T-bones (jumbo loin chops), each about 1-inch thick—2 pounds in all
2 tablespoons extra-virgin olive oil, plus extra oil for drizzling
Coarse salt (kosher or sea) and cracked black pepper
4 cloves garlic, finely chopped
1/4 cup chopped stemmed fresh rosemary, plus a bunch of rosemary sprigs for serving
Lemon wedges for squeezing (optional)
Recipe Steps
Step 1: Build a wood campfire with a good base of glowing embers. Feed fresh logs to the fire from time to time to generate plenty of wood smoke.
Step 2: Lightly brush the chops on both sides with olive oil. Season very generously on both sides with salt and pepper and crust on both sides with garlic and rosemary.
Step 3: Heat the shovel blade in the fire. This serves two purposes: It helps clean and sterilize the cooking surface and preheats the metal so it will sear the meat.
Step 4: Arrange the chops on the shovel blade, leaving an inch between each. Don't overcrowd the shovel—it's OK to work in several batches. Remember, in Australia grilling isn't just about getting a meal to the table—it's a whole evening's entertainment. Thrust the shovel over the fire or lay it on the embers. Cook the chops until the internal temperature cooked to taste, 6 to 8 minutes per side for medium, turning with tongs. Let rest for 2 minutes before serving. Carpet the serving platter with the whole rosemary sprigs and lay the chops on top. Serve with lemon wedges for squeezing.
Find This Recipe
And More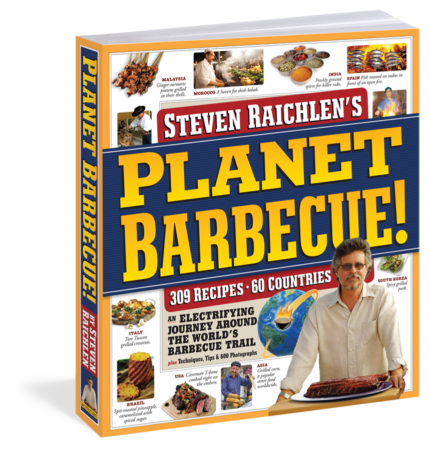 The most ambitious book yet by America's bestselling, award-winning grill expert whose Barbecue! Bible books have over 4 million copies …
Buy Now ‣