Provencal Dagwood
Steven Raichlen
If you like grilled vegetables and goat cheese, you'll love this sandwich, which fairly explodes with the evocative flavors of Provence. Rosemary and garlic lend a Mediterranean fragrance to vegetables that are traditionally associated with ratatouille, the classic vegetable stew from this region of France. The tangy cheese provides a counterpoint in texture to the vegetables. Use a soft, spreadable fresh goat cheese like Montrachet for best results. These sandwiches can be made a few hours ahead of time and are great to take on picnics, with the vegetable juices soaking into the bread.
Print
Provencal Dagwood
Recipe Notes
Yield: Serves 4
Method: Direct grilling
Ingredients
For the vegetables
1 medium-sized eggplant (12 to 14 ounces). stem end trimmed off
2 medium-sized zucchini, stem ends trimmed off
2 medium-sized yellow squash, stem ends trimmed off
2 medium-sized red bell peppers
1 medium-sized red onion, peeled but root end left attached
For the basting mixture
3 tablespoons extra-virgin olive oil
2 tablespoons fresh lemon juice
2 cloves garlic, minced
1 sprig fresh rosemary, or 1 teaspoon dried rosemary
Salt and freshly ground black pepper
For serving
1 long baguette
8 ounces fresh goat cheese, at room temperature
Recipe Steps
Step 1: Prepare the vegetables: Cut the eggplant, zucchini, and yellow squash lengthwise into 1/4-inch-thick slices. Core, seed, and quarter the bell peppers. Quarter the onion, leaving the root end attached to each piece (the root will help the onion hold together as it grills).
Step 2: Make the basting mixture: Combine the olive oil, lemon juice, and garlic in a small bowl. If using dried rosemary, add it directly to the olive oil mixture.
Step 3: Set up the grill for direct grilling and preheat to high.
Step 4: When ready to cook, brush the eggplant, zucchini, squash, bell pepper, and onion slices with some of the olive oil mixture. using the rosemary sprig as a basting brush. (If you are not using fresh rosemary, use a pastry brush.) Arrange the vegetables on the hot grate and grill, turning with tongs, until nicely browned, 3 to 6 minutes per side. Brush the vegetables once or twice more with the olive oil mixture and season them with salt and black pepper as they cook. Transfer the vegetables to a platter to cool. Cut the root end off the onion wedges and break the layers apart.
Step 5: To serve: Cut the bread crosswise into four equal pieces. Split each piece lengthwise in half for the sandwiches. Brush the insides of each piece of bread with any remaining olive oil mixture and spread the goat cheese over them. Sandwich the eggplant, zucchini, squash, bell pepper, and onion slices inside the bread. Cut the sandwiches in half and serve warm or at room temperature.
Find This Recipe
And More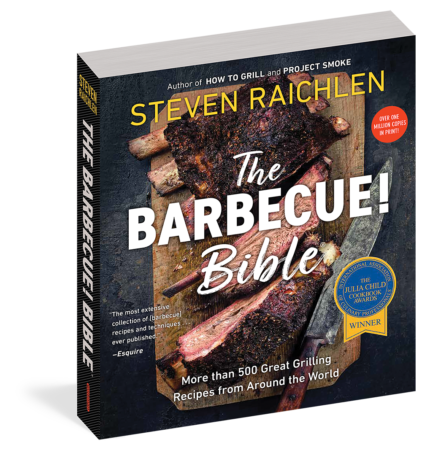 Steven Raichlen's Barbecue! Bible offers the biggest collection of barbecue recipes and grilling recipes ever developed.
Buy Now ‣