Rack of Lamb in Mustard Crust
Steven Raichlen
Whether you celebrate Easter, Passover, or simply the arrival of Spring, make rack of lamb the centerpiece of your table. It's not only tender, flavorful, and versatile, but it's the perfect size for the diminished family gatherings we've become accustomed to during the past year.
Serves 4
You'll Need: Spray Bottle
Print
Rack of Lamb in Mustard Crust
Ingredients
2 racks of lamb (about 1⁄2 pounds each)
Coarse salt and black pepper
3 cups dried bread crumbs (preferably homemade)
1 tablespoon chopped fresh rosemary
3 cloves garlic, minced
1 tablespoon paprika
1 teaspoon dried oregano
1-1/2 cups grainy or Dijon-style mustard
1/4 cup minced fresh parsley (preferably flat-leaf)
Recipe Steps
1: Set up the grill for indirect grilling and preheat to medium-high. If using a charcoal grill, place a drip pan in the center.
2: French the racks of lamb or have your butcher do this for you. Trim the layer of fat off the meat of each rack of lamb. Generously season the lamb racks on all sides with salt and pepper.
3: Place the bread crumbs, parsley, rosemary, garlic, paprika, and oregano in a baking dish and stir to mix. Spread the mustard over the meaty parts of the racks of lamb, using a spatula. Dredge the racks in the crumb mixture to coat on all sides with crumbs. To be sure the meat is evenly covered, sprinkle some of the crumbs over the meat and pat them on with your fingers. Spray the lamb on both sides with oil.
4: When ready to cook, place the racks of lamb in the center of the hot grate over the drip pan away from the heat and cover the grill. Grill the lamb until cooked to taste, 25 to 35 minutes, for medium-rare; when done it will register about 145°F on an instant-read thermometer.
5: Transfer the racks to a cutting board and let rest for 3 minutes, then cut each rack in half and serve.
Recipe Tips
The French have a curious name for foods cooked in a mustard-crumb crust: à la diable (in the style of the devil). This is a great way to pre-pare a spatchcocked chicken; it will take 40 minutes to 1 hour. A bone-in pork loin will take 1 to 11/2 hours.
Find This Recipe
And More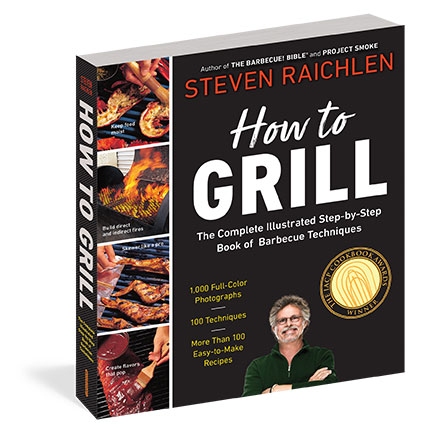 Without a doubt the most interesting, comprehensive, and well-thought-out book on grilling ever and it's destined to be in the …
Buy Now ‣