Raichlen's Rub #2
Steven Raichlen
What gives some guys the edge? What makes their ribs taste a little spicier, their briskets a little more soulful, their food in general a little brighter? Often the secret is as simple as a barbecue rub and sauce made from scratch. Making a rub is easier than you think, and thanks to the wide variations in paprikas, sugars, and other spices, you can follow my formula to the teaspoon and still give it your own personal touch. I've been using this rub in one variation or another for more than twenty years, and it works equally well with beef, pork, lamb, poultry, seafood, tofu, and vegetables.
Print
Raichlen's Rub #2
Recipe Notes
Yield: Makes about 1 cup; figure on about 1 tablespoon per pound of meat
Equipment: Your basic kitchen gear and a jar with a lid for storing the rub
Ingredients
1/4 cup coarse salt (kosher or sea)
1/4 cup packed brown sugar, light or dark—doesn't matter
1/4 cup paprika, sweet, hot, smoked, or a combination of the three
2 tablespoons freshly ground black pepper
2 teaspoons granulated garlic powder
2 teaspoons granulated onion powder
1 teaspoon celery seed
Recipe Steps
Step 1: Combine the salt, brown sugar, paprika, pepper, garlic and onion powders, and celery seed in a bowl and mix, breaking up any lumps in the brown sugar with your fingers (your fingers work better than a whisk or wooden spoon).
Step 2: If you are not using the rub right away, store it in a sealed jar away from heat and light; it will keep for several months, but try to use it sooner than that. (I keep it in the refrigerator.)
Recipe Tips
For the best results, use an imported paprika from Hungary or Spain. For a mild rub, use sweet paprika. For a spicy rub, use some or all hot paprika, a specialty of Hungary. One good brand is Szeged. For a smoky rub, use some or all pimentón (smoked paprika) from Spain. For a Texas-style rub, replace the paprika with ancho or another pure chile powder and add one teaspoon each of dried oregano, ground cumin, and cayenne pepper. Like I said, this rub is versatile.
Find This Recipe
And More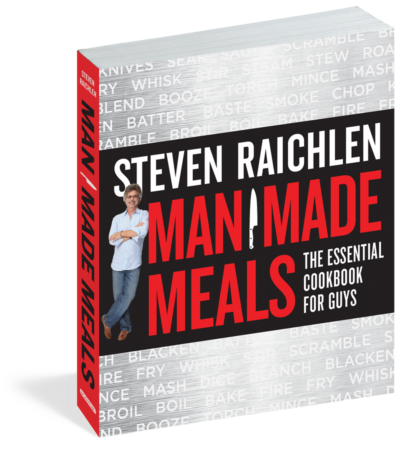 Man Made Meals is about the tools and techniques (guess what, grillers, you still get to play with knives and fire.) …
Buy Now ‣