Real Jamaican Jerk Seasoning
Steven Raichlen
Around the time that reggae music began rocking America's airwaves, a new dish began blasting our taste buds: jerk. Invented by the Maroons (runaway slaves who lived in the hills of north-central Jamaica in the eighteenth century), this fiery Jamaican barbecue combines local seasonings (allspice, fresh thyme, Caribbean chives, and prodigious quantities of Scotch bonnet chilies) in a fiery paste that's rubbed on pork and chicken. The pit master would "jook" the meat (poke holes in it with a sharp stick) to hasten the absorption of the seasonings — the process that gives us our word jerk. The other remarkable thing about Jamaican jerk is the cooking method: open-pit barbecuing over a low smoky fire made of burning allspice wood. You may be aghast by the amount of chilies and salt in this recipe, but that's how Jamaicans make it. (The salt helped preserve the meat without refrigeration.) For a somewhat less fiery jerk seasoning seed the chilies or use a few as two Scotch bonnets.
Print
Real Jamaican Jerk Seasoning
Recipe Notes
Yield: Makes 2 cups; enough for 3 to 4 pounds meat, chicken, or seafood
Ingredients
4 to 12 Scotch bonnet chilies, stemmed and cut in half
1 medium onion, coarsely chopped
1/2 cup coarsely chopped shallots
2 bunches of chives or scallions (white and green parts), trimmed and coarsely chopped
4 cloves garlic, coarsely chopped
1/2 cup coarsely chopped fresh flat-leaf parsley
1/2 cup chopped fresh cilantro
2 teaspoons chopped fresh ginger
2 tablespoons coarse salt (kosher or sea), or to taste
1 tablespoon fresh thyme or 1 1 ⁄2 teaspoons dried thyme
2 teaspoons ground allspice
1 teaspoon freshly ground black pepper
1/2 teaspoon ground cinnamon
1/2 teaspoon freshly grated nutmeg
1/4 teaspoon ground cloves
1/4 cup fresh lime juice
1/4 cup vegetable oil
1/4 cup (packed) dark brown sugar
2 tablespoons soy sauce
1 cup cold water, or as needed
Recipe Steps
Step 1: Combine the chilies, onion, shallots, chives, garlic, parsley, cilantro, ginger, salt, thyme, and spices in a food processor and process to a coarse paste. Add the remaining ingredients, including the water, 1 tablespoon at a time, processing to mix to a thick but spreadable paste.
Step 2: Use right away or transfer to a large jar, cover, placing a piece of plastic wrap between the rim of the jar and the lid, and refrigerate. The seasoning will keep for months.
Recipe Tips
Place the food in a glass baking dish and spread the jerk seasoning over it, turning to ensure an even coating. Marinate large pieces of meat overnight; medium-size pieces for 4 to 6 hours; and small pieces for 1 to 2 hours, covered, in the refrigerator. Barbecue or indirect grill the meat using moderate heat and plenty of wood smoke.
Find This Recipe
And More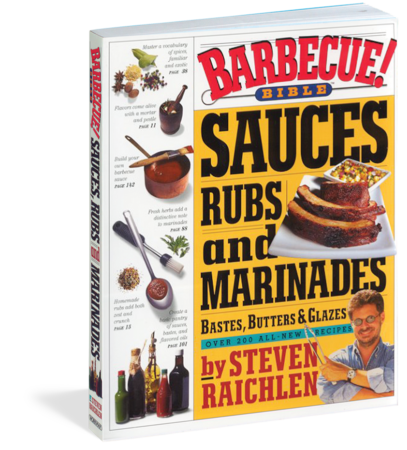 Marinate skewers of beef tips in Tex-Mex Tequila-Jalapeno Wet Rub before putting them on the grill. Or slather pork chops …
Buy Now ‣