Red Chimichurri
Steven Raichlen
Traditional chimichurri is a garlicky green sauce made with olive oil and fresh parsley. But many variations exist in Argentina and Uruguay, including red chimichurri—a specialty of the venerable Buenos Aires steak house La Cabaña.
This chimichurri differs from most in two significant ways: It's cooked (most are raw) and it's flavored with anchovies and tuna. The anchovies suggest parentage shared with two other of the world's great steak sauces, A.1. and Worcestershire, while the tuna recalls Italy's tonnato sauce, which is so delightful with cold roast veal or grilled beef and seafood. Here's how I imagine La Cabaña prepared the chimichurri sauce.
Print
Red Chimichurri
Recipe Notes
Yield: Makes about 1 1/2 cups
Ingredients
½ cup extra-virgin olive oil
½ medium-size red bell pepper, cored, seeded, and diced
½ medium-size carrot, peeled and diced
2 scallions, both white and green parts, trimmed and diced
¼ medium-size onion, diced
1 medium-size rib celery, diced
1 clove garlic, finely chopped
3 tablespoons drained canned water-pack tuna
1 anchovy fillet, drained and chopped
2 tablespoons chopped fresh flat-leaf parsley
2 teaspoons drained capers
1 cup tomato sauce
½ cup homemade chicken stock, canned low-sodium chicken broth, or water
¼ cup tomato paste
1 tablespoon red wine vinegar, or more to taste
1 teaspoon dried oregano
Salt and lots of freshly ground black pepper
Recipe Steps
1: Heat the olive oil in a medium-size nonreactive saucepan over medium heat. Add the bell pepper, carrot, scallions, onion, celery, and garlic and cook until softened but not brown, about 5 minutes.
2: Stir in the tuna, anchovy, parsley, capers, tomato sauce, chicken stock, tomato paste, wine vinegar, and oregano. Season with salt and black pepper to taste and cook, uncov- ered, until thick and fragrant, about 10 minutes.
3: Transfer the sauce to a food processor or blender and process to a puree, then return it to the pan and cook over medium-low heat for 5 minutes. Remove the chimichurri from the heat and taste for seasoning, adding more wine vinegar and/or salt as necessary; the sauce should be highly seasoned.
4: Transfer the chimichurri to a serving bowl and serve hot or at room temperature. The sauce can be stored, tightly covered in the refrigerator, for at least 3 days.
Find This Recipe
And More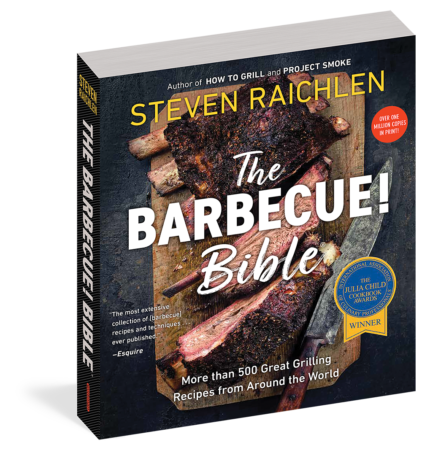 Steven Raichlen's Barbecue! Bible offers the biggest collection of barbecue recipes and grilling recipes ever developed.
Buy Now ‣