Rio Chicken Rollatini with Crazy Rice
Steven Raichlen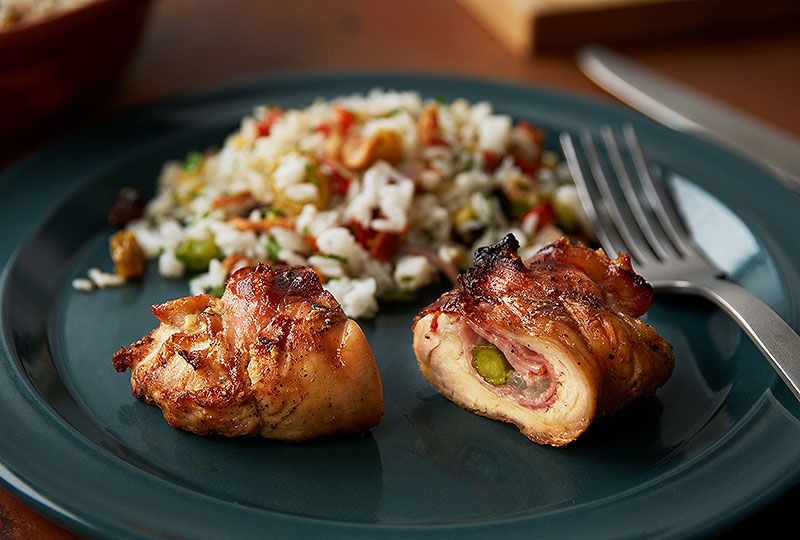 Other Recipes from Planet Barbecue Episode 108 – The Brazilian Grill
These tangy chicken rolls come from Rio's legendary Porcão restaurant chain, where they're cooked on a spit. I like to think of them as Brazilian rollatini. For the sake of authenticity, I should note that the mayonnaise and cornichons are my contribution to the recipe. Their flavors contrast perfectly with the richness of the Gruyère.
Serves: 6
Method: Spit-roasting (rotisserie) or direct grilling
Print
Rio Chicken Rollatini with Crazy Rice
Ingredients
For the rollatini:
6 large boneless skinless chicken breasts, tenderloins removed
Coarse salt (sea or kosher)
Freshly ground black pepper
1/4 cup mayonnaise, or more as needed
3/4 cup grated Gruyère or Swiss cheese, or more as needed
6 very thin slices smoked or cooked ham, each about the same diameter as the pounded chicken breasts
1 white onion, peeled and cut lengthwise into 12 wedges
12 cornichon pickles
2 to 3 tablespoons extra virgin olive oil, for brushing
Recipe Steps
1: Place a chicken breast between 2 sheets of plastic wrap and pound with the bottom of a heavy pan or skillet until about 3/8 inch thick. Repeat with the remaining chicken breasts. Arrange on a work surface.
2: Season each breast on both sides with salt and freshly ground black pepper. Paint one side of each breast (the underside) with mayonnaise. Lay a slice of ham on top of each breast, then sprinkle with cheese. Top with 2 wedges of onion and 2 cornichon along the edge of each breast. Roll the breasts tightly around the filling to form a compact cylindrical roll. Tie each with 2 pieces of butcher's string, snipping off any loose ends. (See Note below.) Oil on all sides with extra virgin olive oil.
3: Set up the grill for spit-roasting and heat to medium-high. I like to pinion the chicken rolls in a grill basket that's been thoroughly oiled to prevent sticking. (If you don't own a rotisserie, the chicken rolls can be direct grilled on a well-oiled grill grate. Turn frequently—every 3 minutes or so—with tongs.)
4: Spit-roast the rollatini until the internal temperature when read on an instant-read meat thermometer reaches 165 degrees.
5: Snip off the butcher's string. Arrange the rollatini (sliced crosswise, if desired) on a platter or plates.
Note: The rollatini can be prepared several hours ahead of time; refrigerate the rolls, loosely covered with plastic wrap, until you are ready to grill. Brush them with the olive oil before grilling.
Recipe Tips
Our thanks to the sponsors of Planet Barbecue Season 1:

Steven Raichlen's Planet Barbecue is a production of Barbacoa, Inc., and Resolution Pictures. © 2023 Barbacoa, Inc. Photos by Chris Bierlein