Romanian Garlic Skirt Steaks
Steven Raichlen
If you like the sanguine flavor of beef and the nose-tweaking pungency of garlic, you'll adore this garlicky skirt steak, inspired by Sammy s Roumanian in New York City. Sammy's is Manhattan's most famous (some would say most infamous) Jewish-style restaurant: Dinner at this Lower East Side landmark is like attending a boisterous bar mitzvah that happens to be open to the public. Sammy's gives both skirt steaks and veal chops the royal garlic treatment. My own contribution to the recipe is a blast of oregano and hot paprika.
Print
Romanian Garlic Skirt Steaks
Recipe Notes
Advance Prep: 2 to 4 hours for marinating the steaks
Method: Direct Grilling
Ingredients
1 1/2 pounds skirt steaks
Coarse salt (kosher or sea) and freshly ground black pepper
Hungarian hot paprika
2 tablespoons olive oil
4 to 6 cloves garlic (see Tip), finely chopped
1 tablespoon dried oregano
Recipe Steps
Step 1: Place the steaks in a baking dish. Generously season them on both sides with salt, pepper, and paprika. Drizzle the steaks on both sides with the olive oil, patting it on with your fingertips. Sprinkle the garlic and oregano over the steaks, again patting them on with your fingertips. Let the steaks marinate in the refrigerator, covered, for 2 to 4 hours. Be sure you tightly cover the baking dish with plastic wrap.
Step 2: Set up the grill for direct grilling and preheat to high.
Step 3: When ready to cook, brush and oil the grill grate. Place the steaks on the hot grate and grill until cooked to taste, 3 to 4 minutes per side for medium-rare. When ready to turn, the steaks will be nicely browned on the bottom. To test for doneness, use the poke method; the meat should be gently yielding for medium-rare. Transfer the steaks to a platter or plates and let rest for 2 minutes, then serve at once.
Recipe Tips
How many garlic cloves you use depends on how intense a garlic flavor you want. I go for broke.
Find This Recipe
And More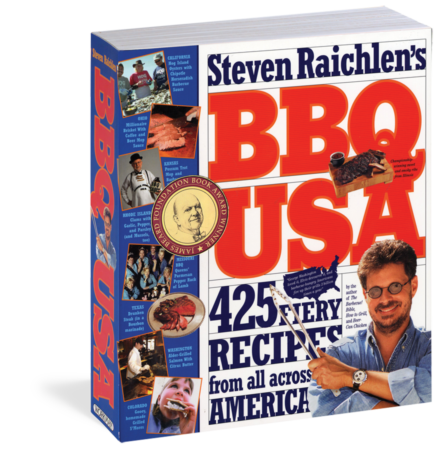 Steven Raichlen, a national barbecue treasure and author of The Barbecue! Bible, How to Grill, and other books in the Barbecue! Bible series, embarks on a quest to find the soul of American barbecue, from barbecue-belt classics-Lone Star Brisket, Lexington Pulled Pork, K.C. Pepper Rub, Tennessee Mop Sauce-to the grilling genius of backyards, tailgate parties, […]
Buy Now ‣