Samba Dogs
Steven Raichlen
I tasted these unusual hot dogs at a samba school in Rio. From midnight to 4 A.M. the cavernous concert hall reverberated with the thunderous rhythm of samba. An army of street vendors stood by to assuage the hunger of the dancers, and I was particularly intrigued by the hot dog stand: The vendor crowned her hot dogs with a luscious relish of corn, tomatoes, peas, black and green olives, and hard-cooked eggs.
More Hot Dog and Sausage Recipes:
Print
Samba Dogs
Recipe Notes
Yield: 8 servings
Method: Direct Grilling
Ingredients
1 large egg, hard-cooked and chopped
1 ripe medium-size tomato, seeded and finely chopped
1/4 cups corn kernels, freshly cooked, or drained canned corn
1/4 cups cooked fresh or frozen green peas, or drained canned petits pois
1/4 cups pimiento-stuffed green olives, cut into 1/4-inch dice
1/4 cups pitted black olives, cut into 1/4-inch dice
1/4 cups diced red onion
3 tablespoons extra-virgin olive oil
4 1/2 teaspoons red wine vinegar, or more to taste
Salt and freshly ground black pepper
8 best-quality hot dogs
8 best-quality hot dog buns, split
Recipe Steps
Step 1: Combine the egg in a medium-sized bowl with the tomato, corn, peas, olives, onion, olive oil, and vinegar and toss gently but thoroughly to mix. Taste for seasoning, adding more vinegar and salt and pepper to taste; the relish should be highly seasoned.
Step 2: Set up the grill for direct grilling and preheat to high.
Step 3: When ready to cook, brush and oil the grill grate. Arrange the hot dogs on the hot grate and grill, turning with tongs, until crusty and nicely browned all over, 6 to 8 minutes in all. While the hot dogs cook on the second slide, place the buns, cut side down, on the grate and toast lightly.
Step 4: Serve the hot dogs on the buns, topped with the relish.
Find This Recipe
And More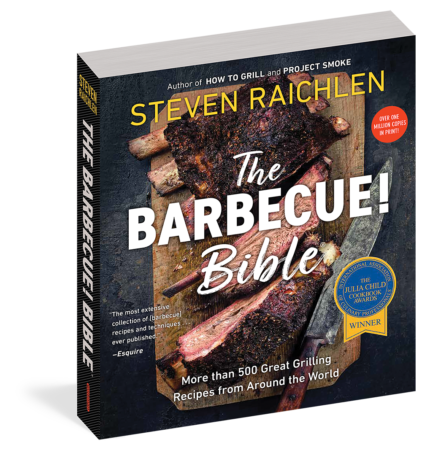 Steven Raichlen's Barbecue! Bible offers the biggest collection of barbecue recipes and grilling recipes ever developed.
Buy Now ‣