Sangria for Grown-ups
Steven Raichlen
Nothing says party time like a pitcher of sangria. And few guys make it better than chef-owner Christian Thornton and sommelier John Clift at the restaurant Atria in my summer stomping grounds, Edgartown, Martha's Vineyard. The guys start with dark rum and Domaine de Canton and St-Germain liqueurs, which add potency and spice, and they use fresh oranges, not the usual canned fruit cocktail you often find in frat house sangrias. But the real kicker comes from a carbonating agent: the dry Italian sparkling red wine called Lambrusco.
Print
Sangria for Grown-ups
Recipe Notes
Yield: Makes about 4 cups
Equipment: Your basic bar gear plus a large (at least 2-quart) clear glass pitcher and a wooden spoon for muddling
Ingredients
1 orange
2 tablespoons sugar
3 ounces (6 tablespoons) dark rum, such as Myers's
3 ounces (6 tablespoons) ginger liqueur, such as Domaine de Canton
2 ounces (4 tablespoons) St-Germain elderflower liqueur
Ice cubes
1 bottle (750 milliliters) Lambrusco wine, chilled
Recipe Steps
Step 1: Slice the orange into wedges and, using a fork, remove and discard any seeds. Place the orange and sugar in a pitcher and muddle (mash) them with the back of a wooden spoon.
Step 2: Stir in the rum, ginger liqueur, and St-Germain liqueur and let macerate (steep) overnight in the refrigerator, covered.
Step 3: When ready to serve, add ice cubes to the pitcher. Add the Lambrusco, stir gently, and serve.
Recipe Tips
Find This Recipe
And More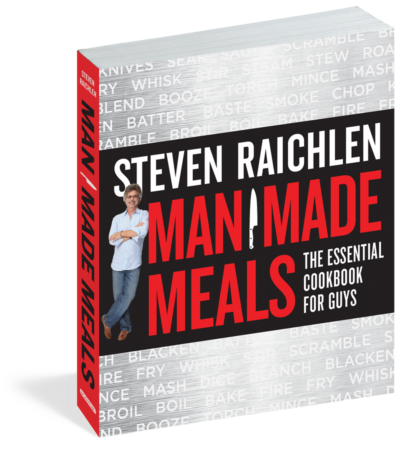 Man Made Meals is about the tools and techniques (guess what, grillers, you still get to play with knives and fire.) It's about adopting secrets from the pros—how to multitask, prep before you start cooking, clean as you go. It's about understanding flavor and flavor boosters, like anchovies and miso, and it's about essentials: how to […]
Buy Now ‣